SATELLITE DECAY: According to US Strategic Command, Iran's Omid satellite reentered Earth's atmosphere today, April 25th, during an 8-hour window centered on 0342 UT. The most likely reentry location is over the south Atlantic Ocean approximately east of Buenos Aires, Argentina. No sightings have been reported.
NOTE: The Safir-2 rocket that launched Omid is still in Earth orbit. Check the Simple Satellite Tracker for viewing opportunities.
WEEKEND SKY SHOW: Keep an eye on the sunset this weekend. Mercury has emerged from the glare of the sun for its best apparition of the year. Even the birds are watching: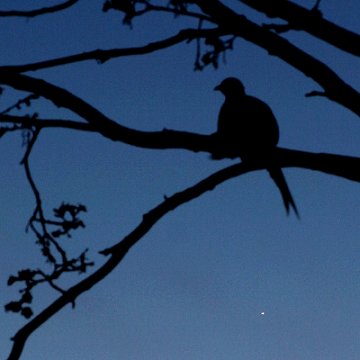 Dennis Put sends the picture from Brielle, The Netherlands. "I used my Canon EOS 350D for a few second exposure at ISO 400."
The view improves on Sunday evening, April 26th, when the crescent Moon joins Mercury for a three-way conjunction with the Pleiades star cluster. Only a real bird brain would miss that. Get the full story and a sky map from Science@NASA.
more images: from Doug Zubenel of Shawnee County, Kansas; from Pete Lawrence of Selsey, West Sussex, UK;
NOT-SO-QUIET SUN: The sun produced an unexpected burst of activity on April 23rd when an enormous prominence rose over the northeastern limb and erupted. SOHO recorded the blast from beginning to end with a series of high-cadence UV snapshots. Click on the image to set the scene in motion:
The complex explosion produced not one but two coronal mass ejections (CMEs): movie. An impact from such a double-CME would almost surely spark magnetic storms around the poles of Earth, but it is not heading in our direction. The chance of auroras remains low.
---
April 2009 Aurora Gallery
[previous Aprils: 2008, 2007, 2006, 2005, 2004, 2003, 2002]
---