He already has a neck tie. This year give Dad something truly heavenly for Father's Day: SpaceWeather PHONE.

SOUTH POLE AURORAS: Last night a geomagnetic storm sparked bright auroras over Antarctica. "Luckily we don't have a problem with twilight as we are entering the darkness of winter," says Chantal Steyn of the South-African National Antarctic Expedition who took this picture. Conditions are favorable for more storming tonight: Sky watchers at high latitudes should be alert for auroras.

SOLAR SOUNDS: On May 19th at 12:52 Universal Time, a magnetic filament erupted on the sun. The blast sent shock waves billowing through the sun's atmosphere; those waves, in turn, generated strong Type II solar radio emissions. Amateur astronomer Thomas Ashcraft heard them in the loudspeaker of his 21 MHz ham receiver. Click on the image to listen: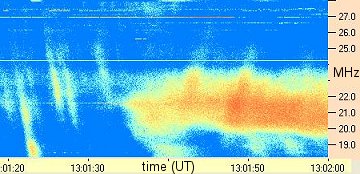 Dynamic spectrum courtesy UFRO and RadioJove
"It was 6:52 am here in New Mexico, and the sun was just rising over the mountains," says Ashcraft. "I was lucky to catch the full power of the radio emission, which was peaking at the heart of my observing frequencies."
The sun has been remarkably "radio-active" lately. Want to tune in? Visit NASA's RadioJove site to learn how you can build your own radio telescope.
A TREE IN A DROPLET OF WATER: Recipe for a great photo: Splatter a pane of glass with droplets of water. Place the glass in front of a tree. Point a camera at the droplets and--click!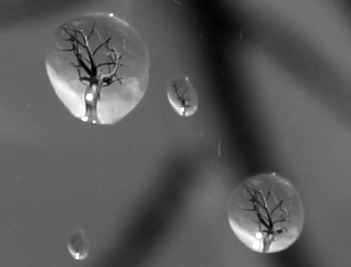 Photo details: Canon EOS 300D, ISO 200, 1/1000s
Photographer Guillaume Bertrand of Saint Laurent sur Sèvre, France, invented the recipe, followed it, and obtained the picture above on March 30, 2007. "I used a Canon EOS 300D digital camera on a tripod with ISO 200 and a 1/1000s exposure," he explains.
There's only one thing wrong with the picture. "It's upside down," he says. "I had to flip it over to make the tree limbs point toward the sky." Water droplets act as inverting lenses, so in the original photo the trees were trunks-up.
Meanwhile in San Francisco, Mila Zinkova discovered you can fit an entire suspension bridge inside a raindrop. This photo captures the Golden Gate Bridge multiplied through the rain-splattered windshield of her car.