QUIET SUN: According to NOAA sunspot counts, the longest stretch of spotless suns during the current solar minimum was 52 days in July, August and Sept. of 2008. The current spate of blank suns is putting that record in jeopardy. There have been no sunspots for almost 42 days and there are none in the offing. Deep solar minimum continues.
NORTHERN LIGHTS: Sunspots are not required to make auroras. A solar wind stream can do the job just fine. Witness this display on August 20th: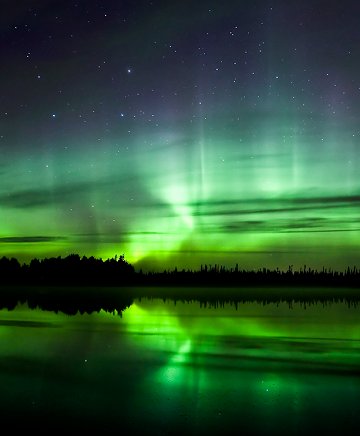 The sky lit up north of Edmonton, Alberta, when a solar wind stream crashed into Earth's magnetic field. "Things were quiet then--POW!" says photographer Zoltan Kenwell. "I was able to photograph the Northern Lights for two hours."
He took the pictures using a Canon 5D2. "I pushed the envelope and set the camera to ISO 1600-5000 for 30 to 50 seconds. There was a substantial amount of fog on the lake and a few wisps of clouds that give the images a dreamy feel. The 5D2 is an amazing camera!"
The solar wind is still blowing. High-latitude sky watchers should remain alert for auroras.
August 2009 Aurora Gallery
[previous Augusts: 2008, 2007, 2006, 2005, 2004, 2003, 2002, 2001]
FLYING ISLANDS: On August 14th, gravity was revoked in the Netherlands--or so it seemed when photographer Rik ter Horst looked out across the water and saw Schiermonnikoog Island floating in mid-air: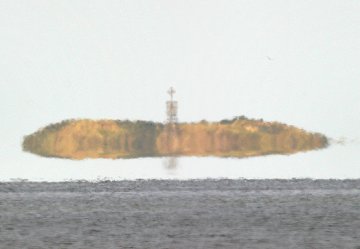 "It was just a mirage," he says. Temperature gradients in the air over the cool, open water caused light from the island and its surroundings to curve in unusual ways en route to the camera. The apparent gap between the island and the sea is actually an upside-down image of the sky above. Note the hint of antenna pointing into the water. But don't look too closely, cautions Horst. "You might start believing islands can fly."
more images: from Peter von Bagh of Porvoo, Finland; from Mila Zinkova of San Francisco, California; from Ivar Marthinusen of Storlien, Sweden; from Becky Ramotowski of Amarillo, Texas
---
2009 Perseid Photo Gallery
[Science@NASA: The Perseids are Coming, Horse Flies and Meteors]
---