BLANK SUN: The sun is entering its 41st consecutive day without sunspots. This remarkable string of blank suns shows that we are still in the pits of the deepest solar minimum in a century. If the streak continues for 11 more days, it will match the longest blank spell of the current cycle.
AURORA WATCH: Last night, Aug. 19-20, a solar wind stream hit Earth's magnetic field and sparked Northern Lights around the arctic circle. Sylvain Serre photographed the display under the crystal-clear skies of Salluit, an Inuit village in Nunavik, Canada: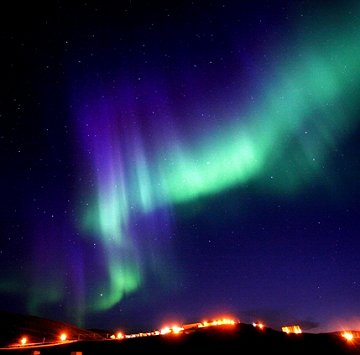 Photo details: Canon EOS 30D, 10mm, 800iso, 3.5f, 15 sec.
"I was very surprised by the vivid colors of the auroras," says Serre. "It was a good show."
The solar wind is still blowing. High-latitude sky watchers should be alert for more auroras tonight.
August 2009 Aurora Gallery
[previous Augusts: 2008, 2007, 2006, 2005, 2004, 2003, 2002, 2001]
UNRULY STAR TRAILS: When a photographer points his camera at the North Celestial Pole and opens the shutter, stars are supposed to make long, graceful arcs around Polaris. They're called "star trails." On August 11th, some of the stars did not cooperate: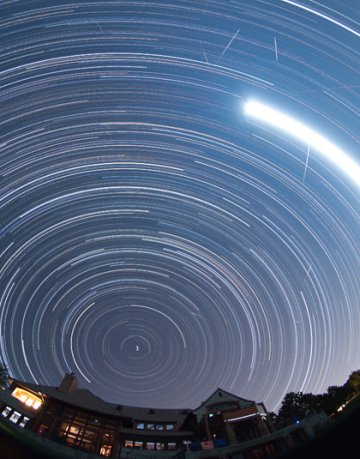 That's because they were shooting stars. "I took the picture during the Perseid meteor shower," says Tom Warner of Rapid City, South Dakota. "It is an all-night composite of 20-second exposures from my Nikon D700. The bright Moon is visible along with some of the brighter Perseids cutting across the star trails."
Browse the gallery for updated images of the best Perseid shower since 1993:
2009 Perseid Photo Gallery
[Science@NASA: The Perseids are Coming, Horse Flies and Meteors]
---
2009 Noctilucent Photo Gallery
[previous years: 2008, 2007, 2006, 2005, 2004, 2003]
---