| | | |
| --- | --- | --- |
| FLYBY ALERT! Would you like a phone call when the International Space Station (ISS) is about to fly over your back yard? Sign up for Space Weather PHONE. | | |
LYRID METEORS: The annual Lyrid meteor shower caused by dust from Comet Thatcher is underway. Forecasters expect the display to peak on Tuesday morning, April 22nd. Unfortunately, full moonlight threatens to spoil the show; most Lyrids are simply not bright enough to pierce the glare. Is it worth waking up hours before sunrise on Tuesday to see no more than a sprinkling of meteors? You decide.
INTRODUCING EMINESCU: Mihai Eminescu is well known in Romania: Schools are named after him; statues in his likeness may be found in public squares; his face is printed on paper money; you have to recite his words to graduate from high school. He is the national poet of Romania, revered for his romantic works of the 19th century.
Now meet Eminescu, the crater: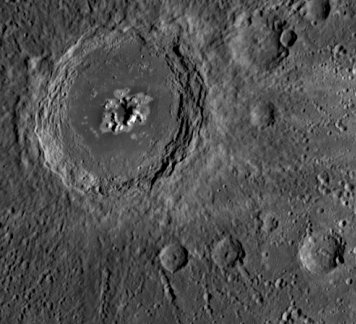 Named just last week by the International Astronomical Union, crater Eminescu was discovered by NASA's MESSENGER spacecraft during its historic flyby of the planet Mercury on Jan. 14, 2008. The flyby revealed 6 million square miles of previously unseen terrain and thousands of new craters. Craters on Mercury are named after great artists such as Matisse, Vivaldi, Mozart ... and now Eminescu.
Crater Eminescu is intriguing for several reasons: (1) It is relatively young; we know this because it has few other craters superposed on top of it. (2) Eminescu is surrounded by an impressive spray of secondary crater chains (diagram) tracing the splash of impact. (3) The ring of peaks at Eminescu's center is slightly blue. On a relentlessly gray world like Mercury, that's very strange.
In 1877 or so, Eminescu the man fell in love with a Moldavian poetess, Veronica Micleand, and in her honor he wrote one of the great love poems of all time: Luceafarul, the "Evening Star." Now Eminescu has a unique place on Mercury, the evening star itself.
MOONDUST AND DUCT TAPE: Going to the Moon? Don't forget your duct tape. Thirty-six years ago when Apollo 17 astronauts found themselves a quarter million miles from home with a damaged moonbuggy, a roll of "good old fashioned American gray tape" saved the day: full story.
3D BONUS: Grab your 3D glasses and examine the Apollo 17 moonbuggy: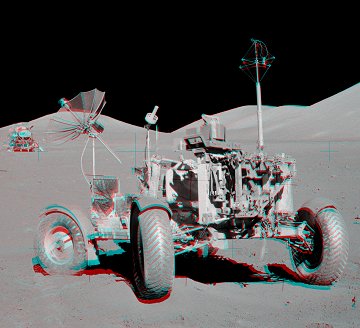 Credit: Gene Cernan, Apollo 17, NASA; Anaglyph by Erik van Meijgaarden
The fenders, which appear vividly in this 3D representation, were a source of trouble during the Apollo 17 Moon landing. Shortly after unloading the rover from its storage compartment in the lunar lander Challenger, astronaut Gene Cernan accidentally snagged one of the rear fenders with a hammer. Half of the fender was torn off and he was forced to make impromptu repairs using "good old-fashioned American gray tape." The movie of Cernan tearing tape from a roll in thick spacesuit gloves is a must-see.
---
April 2008 Aurora Gallery
[Aurora Alerts] [Night-sky Cameras]