| | | |
| --- | --- | --- |
| FLYBY ALERT! Would you like a phone call when the International Space Station (ISS) is about to fly over your back yard? Sign up for Space Weather PHONE. | | |
PROM ALERT: The limb of the sun is bristling with activity today. Several large prominences have caught the attention of observers with solar telescopes. Click to view images from Pete Lawrence of Selsey, West Sussex, UK; from Didier Favre of Brétigny sur Orge, France; from Jyoti S Mahindru of Oakleigh South, Victoria, Australia.
LYRID METEORS: Earth is entering a stream of debris from Comet Thatcher, the source of the annual Lyrid meteor shower. Unfortunately this year's display will be curtailed by bright moonlight; forecasters expect no more than 5 to 10 meteors per hour when the shower peaks on April 21st and 22nd. The only hope for more is a Lyrid outburst, which sometimes happens when Earth passes through a dense clump of debris. The last such outburst in 1982 produced more than 90 Lyrids per hour: full story.
LUNA AND THE BELT OF VENUS: Last night when the full Moon rose in the east, it passed through a luminous pink band known as the Belt of Venus. "What a wonderous moonrise!" says photographer P-M Hedén who sends this picture of his children watching from Vallentuna, Sweden: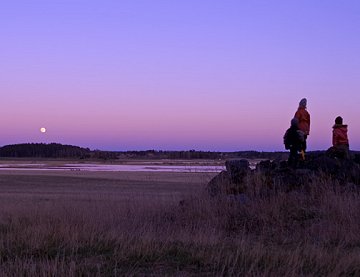 Photo details: Canon Digital Rebel XT, Sigma 20mm lens
What is the Belt of Venus? It divides night from day: diagram. Below the belt lies the shadow of Earth, which rises in the east at sunset to darken the sky and bring out the stars. Above the belt lingers the fading blue of daytime. The day-night border is colored pink by sunset rays from the opposite side of the sky--a beautiful sight.
The Belt of Venus is visible from all parts of Earth on every night (look east when the sun is going down), but the full Moon passes through it only once a month. Says Hedén, "my children and I thoroughly enjoyed the show."
more images: from M. Ouellette, J. Fairfull, and John Stetson of South Portland, Maine
BEAUTY AND THE BEAST: On March 19th, the summit of Hawaii's Kilauea volcano exploded for the first time since 1924. The blast was first thought to be an earthquake, but volcanologists quickly realized what had happened: gases bottled up beneath a vent named "Halema`uma`u" had burst forth, spewing debris over an area of 75 acres.
Last week, on April 14th, "I was watching sulfur dioxide emissions from Halema`uma`u, which is still fuming," reports photographer Mila Zinkova. "Suddenly I noticed a rainbow, which gently touched the crater rim."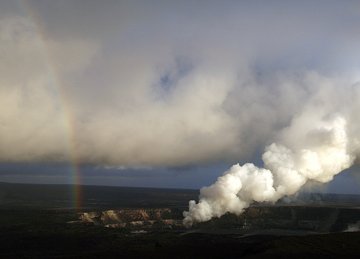 "Beauty and the Beast, I thought. But is the volcano really a beast?" she asks. "Yes, indeed. A few days ago thousands of people fled the Hawaii Volcanoes National Park and nearby villages when sulfur dioxide levels become deadly. On the other hand, Hawaiian islands were created by volcanoes. Even now Pu`u `O`o (an active vent on Kilauea's eastern flank) sends lava to the ocean creating new land and beautiful new beaches."
more images: from Mike Sessions of Hawaii, the Big Island
webcams: Halema`uma`u, Pu`u `O`o
---
April 2008 Aurora Gallery
[Aurora Alerts] [Night-sky Cameras]