| | | |
| --- | --- | --- |
| AURORA ALERTS: Did you miss the Northern Lights? Next time get a wake-up call from Space Weather PHONE | | |
EARTH AND MOON FROM AFAR: En route to Mercury, NASA's MESSENGER spacecraft has been searching for vulcanoids, a long-sought population of sun-grazing asteroids. One of the search photos, just released, shows the Earth and Moon from a distance of 114 million miles. Click here for a thought-provoking view.
KAPPA CYGNID FIREBALLS: Earth is passing through an ancient stream of comet debris, and this is producing the annual kappa Cygnid meteor shower. Last night, Sietse Dijkstra photographed a kappa Cygnid fireball shining through clouds over Almelo, The Netherlands: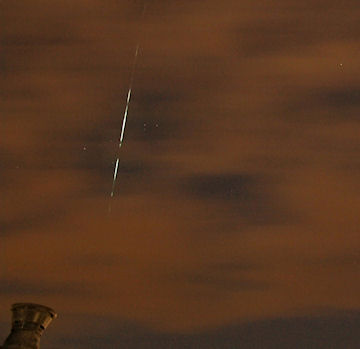 "This beautiful fireball of Venus brightness flew out of the constellation Cygnus at 20:47 UT," says Dijkstra. "It's a pity about the clouds--but through clouds is often the only way we get to see meteors in Holland."
Kappa Cygnid meteoroids are thought to be debris from the breakup of a giant comet some 6000 years ago. Today, all that's left is a broad stream of dust and gravel and an asteroid-like fragment named "2008 ED69." Fortunately, only the dust and gravel intersect the orbit of Earth; 2008 ED69 poses no threat of impact.
The kappa Cygnids peak on August 18th-19th with 3 to 4 meteors per hour. That's not a large number, but kappa Cygnids tend to be fireballs, so even one is enough for a good show. Tonight, be alert for lights behind the clouds!
more fireballs: from Peter van Leuteren of Borne, The Netherlands; from Martin Popek of Nýdek, Czech republic
FARSIDE ERUPTION: On August 18th around 0500 UT, something exploded on the far side of the sun. NASA's STEREO-A spacecraft had a direct view of the blast, which produced a C4-class solar flare and hurled a bright coronal mass ejection (CME) over the sun's western limb: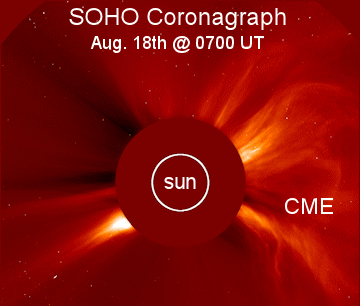 Click to view a 0.7 MB movie of the CME
Based on STEREO-A imagery, the source of the eruption appears to be farside sunspot complex 1093-1099. Magnetic fields connecting the two sunspot groups became unstable and--bang! The blast was not directed toward Earth, so no geomagnetic storms are in the offing.
more images: from NASA's Solar Dynamics Observatory (SDO) in Earth orbit
---
2010 Perseid Photo Gallery
[meteor radar] [Perseid fireball cam]
---
August 2010 Northern Lights Gallery
[previous Augusts: 2009, 2008, 2007, 2006, 2005, 2004, 2003]