| | | |
| --- | --- | --- |
| iPHONE VS ANDROID! Actually, it doesn't matter which phone you carry. Our cool, new app turns both smartphones into field-tested satellite trackers. Learn more. | | |
WEAK IMPACT: There was no green snow in Antarctica last night. The CME expected to hit Earth's magnetic field on Aug. 17th either missed or delivered such a feeble blow that no one noticed the resulting geomagnetic disturbance. The next opportunity for auroras is Aug. 24th when an incoming solar wind stream could provoke polar geomagnetic storms. Stay tuned.
FARSIDE ERUPTION: This morning around 0500 UT, something exploded on the far side of the sun. NASA's STEREO-A spacecraft had a direct view of the blast, which produced a C4-class solar flare and hurled a bright coronal mass ejection (CME) over the sun's western limb: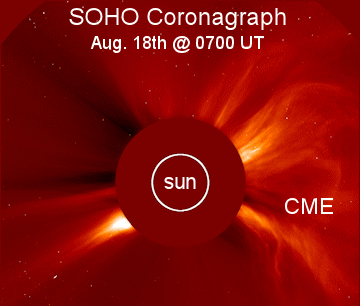 Click to view a 0.7 MB movie of the CME
Based on STEREO-A imagery, the source of the eruption appears to be farside sunspot complex 1093-1099. Magnetic fields connecting the two sunspot groups became unstable and--bang! The blast was not directed toward Earth, so no geomagnetic storms are in the offing.
more images: from NASA's Solar Dynamics Observatory (SDO) in Earth orbit
RED SPOTS IN CONJUNCTION: What happens when a raging cyclone as wide as Earth bumps into another storm twice as large? The answer lies in the midnight sky. Two storms on Jupiter--the Great Red Spot and Oval BA--are having just such a close encounter. Amateur astronomer Anthony Wesley sends this picture from Exmouth, Australia: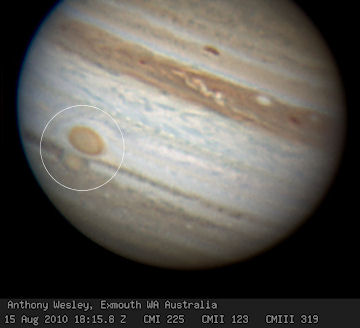 The bigger storm is the Great Red Spot, which has been swirling around Jupiter for centuries. The smaller is upstart Oval BA, which formed less than ten years ago. Because the storms travel around Jupiter at different rates, they pass one another periodically, approximately every two years. And when they do ... not much happens. Previous encounters have shown, surprisingly, that the two colossal storms can converge and emerge in tact. Could this time be different?
"Oval BA and the Great Red Spot will be passing one another in the days ahead," says Wesley. "I plan to monitor developments."
more images: from Brian Combs of Buena Vista, GA; from Efrain Morales Rivera of Aguadilla, Puerto Rico; from Ralf Vandebergh of the Netherlands
---
2010 Perseid Photo Gallery
[meteor radar] [Perseid fireball cam]
---
August 2010 Northern Lights Gallery
[previous Augusts: 2009, 2008, 2007, 2006, 2005, 2004, 2003]