What's the name of that star? Where's Saturn? Get the answers from mySKY--a fun new astronomy helper from Meade.
SUNSPOT 956: Sunspot 956 continues to grow (movie) and it now has a complex magnetic field that habors energy for X-class solar flares. NOAA forecasters estimate a 5% chance of such an explosion during the next 24 hours. Stay tuned.
SUNSET PLANETS: Photographer Martin Gembec of the Czech Republic calls this a "good sky." The glow of sunset, the planet Mercury, and a whisper-thin crescent Moon: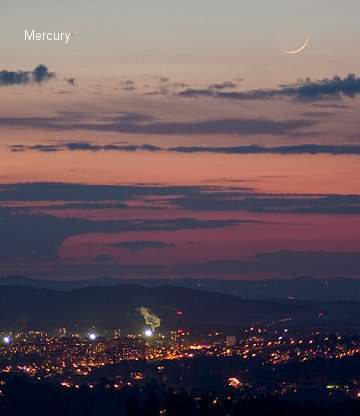 Photo details: Canon 300D, Sigma 135mm lens, ISO 400, 0.5 sec exp.
He took the picture last night while the Moon was passing by Mercury. Consider it a preview: On Saturday night, May 19th, the crescent Moon will pass even closer to Venus, and it is a sight you must not miss. Venus and the crescent Moon will lie barely 1o apart, forming a brilliant and unforgettable pair. When the sun goes down on Saturday, be outside looking west: sky map.
more images: from Stephane Levesque of Ste Luce, Quebec; from Jan Koeman of Kloetinge, the Netherlands; from Chuck Hunt of Brook Park, Ohio; from Michael Bromley at the Kufrah Oasis in the Sahara Desert of Libya; from Anirudh Walvekar of Cuyahoga Falls, Ohio; from Helmut Groell of Moers, Germany; from Günther Strauch of Borken, Germany; from Pete Lawrence of Selsey, UK.
GALACTIC FOSSIL: "The scientific community is still buzzing about the discovery of HE 1523-0901, a 13.2 billion year old star which formed a mere 500 million years after the Big Bang," says Anthony Ayiomamitis of Athens, Greece. "I took this picture of the star on May 13th."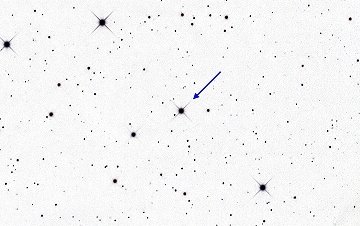 Photo details: 160mm Starfire telescope, SBIG ST-2000XM, 2 hr exposure.
Indicated by the arrow, HE 1523-0901 is 11th magnitude and located in the constellation Libra. It looks much like any other star in the area--but it is special. HE 1523-0901 is one of the oldest stars in the Milky Way, perhaps one of the oldest in the Universe, and by studying it astronomers may be able to learn new things about the genesis of our galaxy.
A team of astronomers led by Anna Frebel of the University of Texas dated the star using a technique similar to carbon-14 dating. HE 1523-0901 contains radioactive elements uranium and thorium. (These elements leave their imprint on the star's spectrum, which is how they can be detected and measured.) By comparing the abundance of uranium and thorium to other elements in the star which do not decay, the researchers were able to make six independent estimates of the star's age, and they all agreed: 13.2 billion years. Click here to read the original research.