| | | |
| --- | --- | --- |
| Turn your cell phone into a field-tested satellite tracker. Works for Android and iPhone. | | |
AURORA WATCH: High-latitude sky watchers should be alert for auroras. Earth is entering a solar wind stream that could trigger minor geomagnetic storms on July 19th and 20th. Observers in the southern hemisphere with winter-dark midnight skies are favored.
FIRST CLOSE-UP OF VESTA: Mission scientists have confirmed that Dawn is indeed in orbit around Vesta. The giant asteroid's gravity captured the spaceship during the early hours of July 16th. In return, Dawn's cameras captured the first close-up image of Vesta, just released by NASA: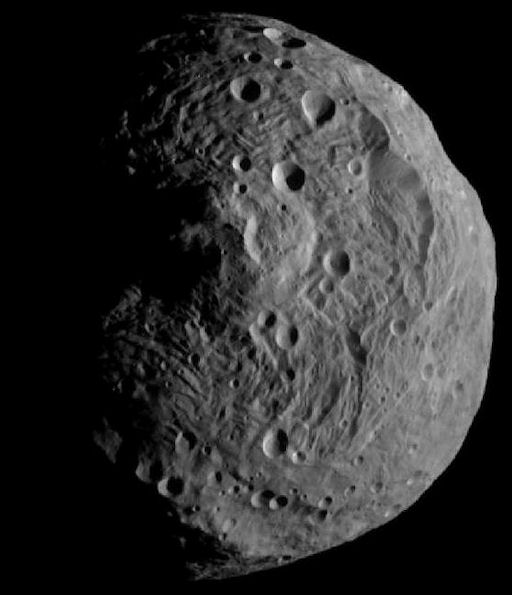 The image taken for navigation purposes shows Vesta in greater detail than ever before. For comparison, take a look at previous best images of Vesta taken by the Hubble telescope in 1996.
Vesta is 530 kilometers in diameter and the second most massive object in the asteroid belt. Ground- and space-based telescopes have been photographing the ancient asteroid for two centuries, but they have not been able to see much detail on its surface. Dawn will change all that as it orbits Vesta for a full year, taking increasingly close pictures of "arguably the oldest extant primordial surface in the solar system," says Dawn principal investigator Christopher Russell of UCLA.
Would you like to own a piece of Vesta? It's possible. Authentic Vesta meteorites are now available in the Space Weather Store.
SOLAR TRANSITS: To the dismay of sky watchers in Europe and North America, space shuttle Atlantis has not appeared very often in the night sky during the ongoing final mission of NASA's shuttle program. The apparitions have been taking place instead during broad daylight. French astrophotographer Thierry Legault sends this picture of Atlantis and the ISS passing directly in front of the sun on July 15th: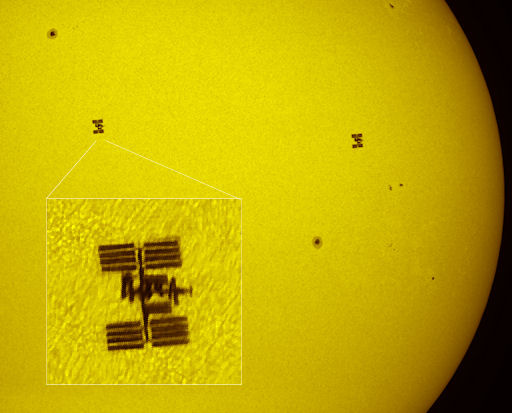 "We enjoyed a rare day with clear skies," says Legault. "Good seeing allowed me to capture many details of the docked spacecraft." A labeled close-up shows the crisp outlines of Atlantis, a Progress cargo ship, the space station's wide solar panels, and many of the station's research modules and crew quarters--all silhouetted by solar fire. Daytime apparitions aren't so bad, after all.
The shuttle is scheduled to return to Earth on Thursday, July 21st, never to fly again. Farewell, Atlantis, and thanks for all the transits!
more transit images: from Alan Friedman and Donna Massimo on the shore of Lake Ontario in Lyndonville, NY; from Catalin Paduraru of Curcani, Romania; from Leonardo Julio of Buenos Aires, Argentina; from Ehsan Rostamizadeh of Kerman, Iran; from Jay Lawson of Fallon, Nevada; from John Stetson of Kennebunk, Maine; from Martin Gembec of Mikulasovice, Czech Republic; from Blake Estes of Santa Barbara, California; from Jim Haklar of Edison, New Jersey
---
2011 Noctilucent Cloud Gallery
[previous years: 2003, 2004, 2005, 2006, 2007, 2008, 2009]
---
June 2011 Aurora Gallery
[Aurora alerts: text, voice] [previous Junes: 2010, 2008, 2001]