| | | |
| --- | --- | --- |
| Are we alone? Your iPhone has the answer. Download the all-new Drake Equation app to calculate the population of the Milky Way. | | |
DAWN ORBITS VESTA: NASA's ion-propelled Dawn spacecraft has entered orbit around giant asteroid Vesta. Because of uncertainties in Vesta's mass, mission scientists aren't sure exactly when Vesta's gravity captured Dawn. Best guess: sometime on July 16th. Stay tuned for updates and photos in the days ahead as Dawn begins a year-long study of the asteroid from close range.
Would you like to own a piece of Vesta? It's possible. Authentic Vesta meteorites are now available in the Space Weather Store.
AURORAS UNDERFOOT: Earth orbit is a great place to watch geomagnetic storms. On July 14th, astronauts onboard the International Space Station (ISS) witnessed a broad curtain of green auroras over the southern hemisphere. This is what aurora australis looks like from space: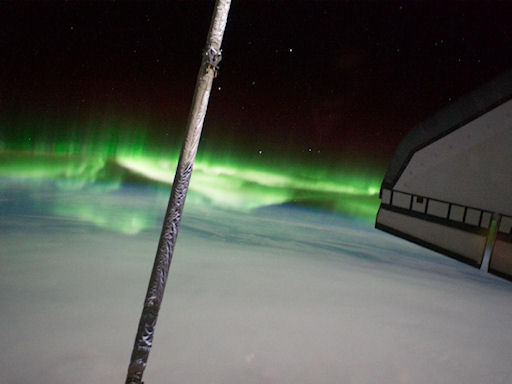 The picture was taken by one of the crew of space shuttle Atlantis, now docked to the ISS for the last resupply mission of NASA's 30-year shuttle program. In addition to Southern Lights, the picture also frames Atlantis's port side wing and a segment of the boom sensor system attached to the shuttle's robotic arm. See also the panoramic shot.
The display was caused by a solar wind stream which hit Earth's magnetic field on July 12th. Note to astronauts: Another solar wind stream is heading for Earth, due to arrive on July 19th-20th. The crew of Atlantis should remain alert for auroras.
BONUS: The same display was seen from Earth's surface. Robert Schwarz sends two snapshots from the Amundsen-Scott South Pole Station in Antarctica. "Absolutely amazing," says Schwarz. "These were some of the best auroras I have ever seen."
SOLAR TRANSITS: To the dismay of sky watchers in Europe and North America, space shuttle Atlantis has not appeared very often in the night sky during the ongoing final mission of NASA's shuttle program. The apparitions have been taking place instead during broad daylight. French astrophotographer Thierry Legault sends this picture of Atlantis and the ISS passing directly in front of the sun on July 15th: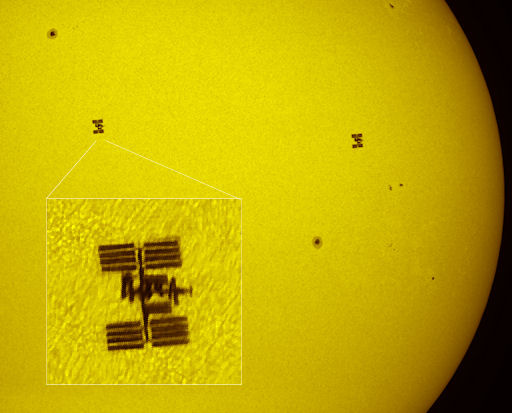 "We enjoyed a rare day with clear skies," says Legault. "Good seeing allowed me to capture many details of the docked spacecraft." A labeled close-up shows the crisp outlines of Atlantis, a Progress cargo ship, the space station's wide solar panels, and many of the station's research modules and crew quarters--all silhouetted by solar fire. Daytime apparitions aren't so bad, after all.
The shuttle is scheduled to return to Earth on Thursday, July 21st, never to fly again. Farewell, Atlantis, and thanks for all the transits!
more images: from Alan Friedman and Donna Massimo on the shore of Lake Ontario in Lyndonville, NY; from Catalin Paduraru of Curcani, Romania; from Leonardo Julio of Buenos Aires, Argentina; from Ehsan Rostamizadeh of Kerman,Iran
---
2011 Noctilucent Cloud Gallery
[previous years: 2003, 2004, 2005, 2006, 2007, 2008, 2009]
---
June 2011 Aurora Gallery
[Aurora alerts: text, voice] [previous Junes: 2010, 2008, 2001]