| | | |
| --- | --- | --- |
| NEW AND IMPROVED: Turn your iPhone or iPod Touch into a field-tested global satellite tracker. The Satellite Flybys app now works in all countries. | | |
STRANGE MARTIAN SPIRALS EXPLAINED: For 40 years researchers have puzzled over a strange pattern of ice spirals and chasms around the Martian north pole. New data from NASA's Mars Reconnaissance Orbiter solves the mystery. Get the full story from Science@NASA.
"SMALL" EXPLOSIONS: Tiny new sunspot 1082 is crackling with small solar flares. This one is "only" about as powerful as ten million atomic bombs: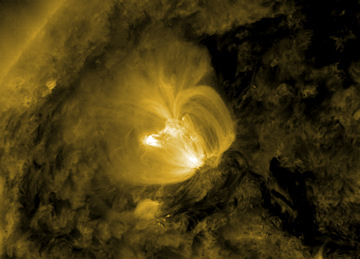 NASA's Solar Dynamics Observatory recorded the B4-category flare on June 17th. Each seemingly miniscule flash of light in the movie is a continent-sized blast dwarfing any explosion ever produced on Earth by many factors of ten.
Believe it or not, solar physicists do consider this small. On the Richter scale of solar flares, B-flares are near the bottom, producing little or no effect on Earth. The really fearsome explosions are X-flares, more than a thousand times stronger than anything sunspot 1081 is likely to produce. X-flares will become more common as Solar Max approaches in 2013. Until then, relax. It's "only" a B-flare.
ELECTRIC BLUE CLOUDS: Observers in Europe are reporting brightening displays of noctilucent clouds (NLCs). "On June 16th, a stunning display appeared in the skies over Northern Ireland," reports Martin McKenna. "Here they are glowing over the famous 'Toome Bridge' in County Antrim."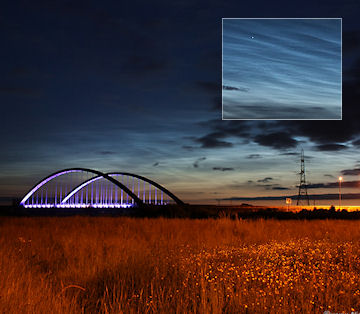 "The clouds stretched more than 160 degrees across the sky with wonderful electric blue colours," he adds. "Well-formed bands and whirls could be seen moving in real time."
Summer is the season for NLCs, and sightings should increase in frequency as the season unfolds in the weeks ahead. The solar cycle also favors a good show: There is a well-known correlation between noctilucent clouds and sunspots. NLC activity tends to peak during years of solar minimum, possibly because low solar activity allows the upper atmosphere to cool, promoting the growth of ice crystals that make up the clouds. With the sun slowly emerging from a century-class minimum, the stage is set for a good season of NLC watching.
more images: from John C McConnell of Maghaberry, Northern Ireland; from Michael Alexander of Galloway Astronomy Centre, Glasserton, Dumfries & Galloway, Scotland; from Peter McCabe of Dundalk, Co.Louth, Ireland; from Conor McDonald of Maghera, Ireland; from Pete Glastonbury of Avebury, Wiltshire, UK; from Stuart Atkinson of Kendal, Cumbria, UK; from George of Moscow, Russia;
Observing tips: Look west 30 to 60 minutes after sunset when the Sun has dipped 6o to 16o below the horizon. If you see luminous blue-white tendrils spreading across the sky, you may have spotted a noctilucent cloud. High-northern latitudes are favored.
---
May 2010 Aurora Gallery
[previous Mays: 2008, 2005, 2004, 2003, 2002] [aurora alerts]