CELESTIAL TRIANGLE: This week, Venus, Mars and the Moon are gathering for a morning sky show. On Wednesday, May 20th, the three worlds will form a line in the dawn sky. On Thursday morning, May 21st, they will shift to become the vertices of a lovely celestial triangle. Mark your calendar and set your alarm! Sky maps: May 20, 21.
REFLECTIONS: A blue planet, a space telescope, another astronaut--all these things and more can be found in the visor of John Grunsfeld who paused to survey his surroundings during a spacewalk on May 14th. Put on your 3D glasses and behold: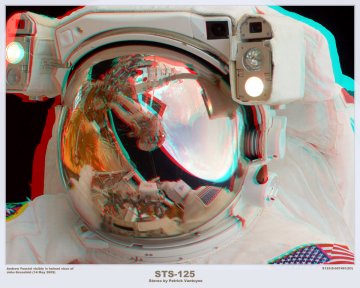 To create this anaglyph, digital artist Patrick Vantuyne of Belgium combined two slightly offset photos taken by spacewalker Andrew Feustal--the guy holding the camera in Grunsfeld's visor. Readers without red-blue glasses can obtain the same 3D effect by crossing their eyes while looking at the original photos.
Grunsfeld and Feustal went out again today to complete the fifth and final spacewalk of the Hubble repair mission. Thanks to their efforts, the great telescope is in working order again. At the end of the spacewalk, Grunsfeld had this to say: "This is a really tremendous adventure we've been on, a very challenging mission. Hubble isn't just a satellite- it's about humanity's quest for knowledge. On this mission, we tried some things that some people said were impossible.... We've achieved that, and we wish Hubble the very best."
Well done, NASA.
PINEAPPLE SPLASH: Sunspot group 1017 is so small and widely scattered, "it can hardly be seen with all the waves and blistering surface detail around it," reports astrophotographer Larry Alvarez of Flower Mound, Texas. "It looks like the remains of a pineapple dropped from 50 thousand feet."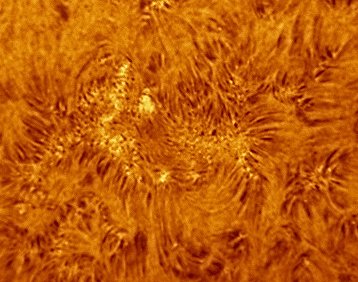 "I took this picture yesterday, May 17th, using my Coronado SolarMax90." says Alvarez.
It's hard to take a sunspot seriously when it looks like smashed fruit. Sunspot 1017 is, however, important in disproportion to its size or menace. It is one of the first sunspots of long-awaited Solar Cycle 24 expected to peak in May 2013. This makes it a herald of bigger things to come--and we don't mean bigger pineapple. If forecasters are correct, solar activity should begin to pick up in late 2009 or early 2010, breaking the monotony of deep solar minimum with noticeably larger sunspots and occasional solar flares; a rapid ascent toward stormy solar maximum would follow in 2011 and 2012. Stay tuned.
more images: from Mike Borman of Evansville, Indiana; from Marco Vidovic of Stojnci, Slovenia; from Pavol Rapavy of Rimavska Sobota, Slovakia; from Stefano Sello of Pisa, Italy; from Stephen Ames of Hodgenville, KY; from Cai-Uso Wohler of Bispingen, Germany; from Howard Eskildsen of Ocala, Florida; from Matthias Juergens of Gnevsdorf, Germany; from Leslie Marczi of Welland Ontario Canada; from Guenter Kleinschuster of Feldbach, Styria, Austria; from Stefano Sello of Pisa, Italy; from Monty Leventhal of Sydney, Australia;
---
April 2009 Aurora Gallery
[previous Aprils: 2008, 2007, 2006, 2005, 2004, 2003, 2002]
---