CELESTIAL TRIANGLE: This week, Venus, Mars and the Moon are gathering for a beautiful morning sky show. On Wednesday, May 20th, the three worlds will form a line in the dawn sky; on Thursday morning, May 21st, they will shift to become the vertices of a lovely celestial triangle. Mark your calendar and set your alarm! Sky maps: May 20, 21.
REFLECTIONS: A blue planet, a space telescope, another astronaut--all these things and more can be found in the visor of John Grunsfeld who paused to survey his surroundings during a spacewalk on May 14th. Put on your 3D glasses and behold: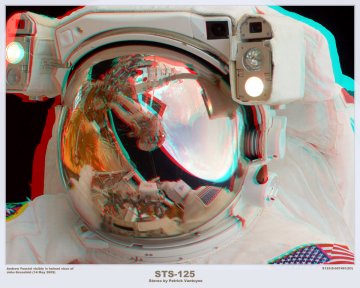 To create this anaglyph, digital artist Patrick Vantuyne of Belgium combined two slightly offset photos taken by spacewalker Andrew Feustal--the guy holding the camera in Grunsfeld's visor. Readers without red-blue glasses can obtain the same 3D effect by crossing their eyes while looking at the original photos.
Grunsfeld and Feustal will be at it again on Monday morning, May 18th, when they step out for the fifth and final spacewalk of the ongoing Hubble repair mission. Watch the action on NASA TV beginning at 9:16 a.m. EDT
SPACESHIPS IN THE SUN: Award winning astrophotographer Thierry Legault wanted to image the Hubble Space Telescope and space shuttle Atlantis traveling together around Earth. But how? The pair wouldn't fly over his hometown in France during the ongoing servicing mission. To catch the rare meeting of spaceships, he decided to do some traveling of his own all the way to Florida. On May 12th, from a location near the Kennedy Space Center, he pointed his solar-filtered telescope at the sun and voilà!--there was Atlantis: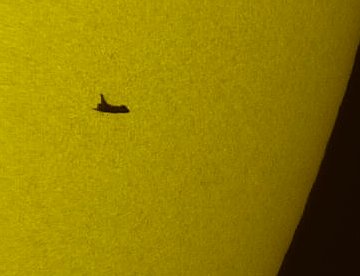 The space shuttle's silhouette was beautifully outlined by solar fire as Atlantis passed over central Florida.
A day later, he tried again, and this time Hubble joined the show: "I took this picture of Atlantis and the space telescope transiting the sun together on May 13th. It was just before the shuttle reached out with its robotic arm to grapple Hubble," says Legault. "The two spaceships were at an altitude of 600 km and they zipped across the sun in only 0.8 seconds." He captured the split-second transit using a Takahashi 5-inch refracting telescope and a Canon 5D Mark II digital camera.
Hubble is now safely stowed inside the shuttle's cargo bay where astronauts are conducting a series of five spacewalks to repair and upgrade the telescope. So far they have installed a new camera, replaced gyros, batteries and a failed computer. These upgrades and others are expected to extend Hubble's life until 2014. [more]
---
April 2009 Aurora Gallery
[previous Aprils: 2008, 2007, 2006, 2005, 2004, 2003, 2002]
---