Where's Saturn? Is that a UFO--or the ISS? What's the name of that star? Get the answers from mySKY--a fun new astronomy helper from Meade.

BIG SURPRISE: Astronomers have discovered something they've never seen before: a star with a tail like a comet. Even more amazing is the fact that the newfound tail is attached to one of the most popular stars in the sky, a red giant named Mira. Astronomers have been watching Mira for 400 years and only recently has a NASA space telescope spotted its massive tail: full story.

SPACESHIP SIGHTING: The International Space Station (ISS) is under construction, and with each new addition the sprawling complex becomes easier to see from the ground. Last night, Mario Weigand took this picture from his balcony in Offenbach, Germany: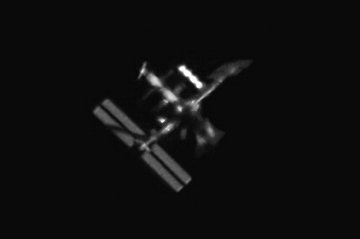 "I used my 11-inch Celestron telescope, and I tracked the ISS manually as it moved across the sky," he says. "Space Shuttle Endeavour is also visible in the photo."
How big is the ISS? The solar arrays (lower left) span 256 feet from tip to tip, almost as wide as a football field. The entire complex fills the eyepiece of a backyard telescope about the same as Jupiter or the rings of Saturn. Sky watchers, be alert for flybys!
more images and video: from Ralf Vandebergh of the Netherlands; from Hanno Falk of Flensburg, Germany (cross your eyes!)
NOCTILUCENT WAVES: On August 10th, scientists from SRI International at NSF's research facility in Sondrestrom, Greenland, shot a laser into a bank of noctilucent clouds (NLCs) passing overhead. "This is the best way to probe these mysterious clouds from the ground," says lidar team member Jeff Thayer of the University of Colorado. Their experiment revealed not only the clouds' height and thickness (80+ km high and ~1 km thick), but also some strange undulating waves:
"We believe the waves are caused by atmospheric gravity waves, or buoyancy waves, generated in the lower atmosphere and propagating vertically to the edge of space where noctilucent clouds are located," explains Thayer. When the waves reach the upper limit of Earth's atmosphere, "they can become unstable and crash – much like waves approaching and crashing on a beach."
"We have been 'pinging' NLCs from Greenland for more than 12 years, but every time it is exciting and novel," he says. During this particular observation, NASA's AIM satellite was flying overhead and observing the same waves from above. "The combined analysis will be extremely informative and exciting."
---
2007 Perseid Meteor Gallery
Updated Aug. 14, 2007