| | | |
| --- | --- | --- |
| Metallic photos of the sun by renowned photographer Greg Piepol bring together the best of art and science. Buy one or a whole set. They make a stellar gift. | | |
NO X-FLARE: Don't panic, there was no catastrophic X20-flare today. Earlier this morning, a hiccup on our web server caused some of the values under "current conditions" to go haywire. The most noticable error was a purported "X20+" solar flare. Such flares can occur, but not today. A reboot has solved the problem and reporting is back to normal. My apologies to readers who were confused or alarmed by the mix-up. Signed, Tony Phillips, webmaster of spaceweather.com.
SUNSET PLANETS: This week, sky watchers have a rare opportunity to see Mercury at its best as NASA's MESSENGER probe prepares to enter orbit around the innermost planet. Look west at sunset: Mercury pops out of the evening twilight alongside Jupiter for a fantastic sky show.
Peter Rosén caught the two planets hovering together over Stockholm, Sweden, at the end of the day on March 14th: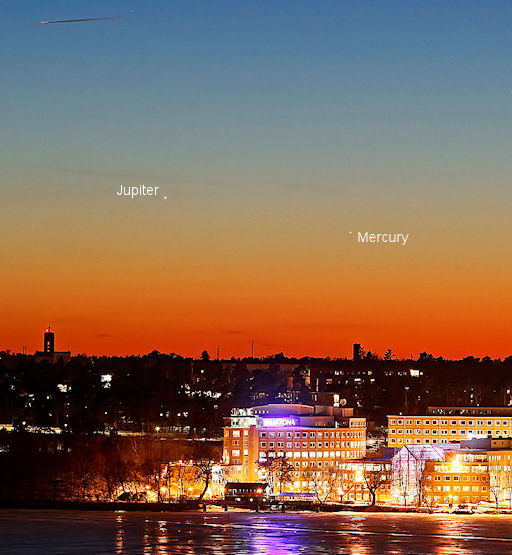 "Jupiter and Mercury were easy to spot in the twilight sky tonight," says Rosén. "Even Jupiter's moons Callisto, Ganymede and Europa can be seen in the full-sized image as tiny dots that follow the planet."
more sunset shots: from Charaf Chabou of Algiers, Algeria; from M. Raşid Tuğral of Ankara, Turkey; from Rosenberg Róbert of Adony, Hungary; from Thierry Demange of Erstein, Alsace, FRANCE; from Geir Øye of Ørsta, Norway; from Alan C Tough of Elgin, Moray, Scotland; from Peter Chappell of Swindon, Wiltshire, UK; from George Kristiansen of Lincolnshire, UK
ACTIVE SUNSPOT: Formerly quiet sunspot 1169 is suddenly crackling with M-class solar flares. Amateur astronomer Michael Buxton of Ocean Beach, California, was video-recording the region on March 14th at 1952 UT when it erupted: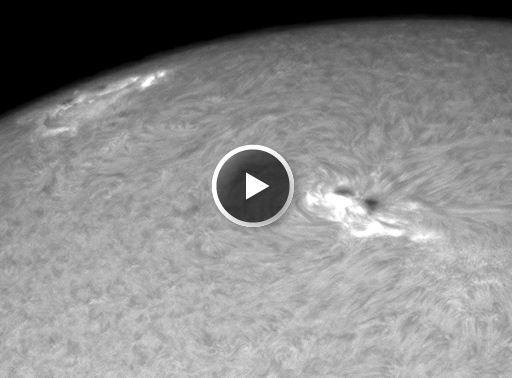 "I captured this M4-class flare as it released its awesome power from AR1169," says Buxton. "It was a powerful blast."
It was not, however, geoeffective. NASA's STEREO-B spacecraft observed a bright coronal mass ejection (CME) emerging from the blast site, but the cloud is expected to sail wide-right of Earth. Because of the sunspot's location near the sun's western limb, future eruptions from AR1169 are likely to miss as well. NOAA forecasters say there is a 40% chance of more wayward M-flares during the next 24 hours.
OBSERVE THE SUN: Got a telescope? Turn it into a solar telescope. Safe and affordable solar filters are available at the Space Weather Store.
---
March 2011 Aurora Photo Gallery
[previous Marches: 2010, 2009, 2008, 2007, 2006, 2005, 2004, 2003, 2002]