| | | |
| --- | --- | --- |
| Turn your cell phone into a field-tested satellite tracker. Works for Android and iPhone. | | |
HAPPY PI DAY: March 14th (3.14) is

day and all around the world mathematicians are celebrating this compelling and mysterious constant of Nature. Pi appears in equations describing the orbits of planets, the colors of auroras, the structure of DNA. It's everywhere.
Humans have been struggling to calculate

for thousands of years. Divide the circumference of a circle by its diameter; the ratio is

. Sounds simple, but the devil is in the digits. While the value of

is finite (a smidgen more than 3), the decimal number is infinitely long:
3.1415926535897932384626433832795
02884197169399375105820974944592307
81640628620899862803482534211706...more
Supercomputers have succeeded in calculating more than 2700 billion digits and they're still crunching. The weirdest way to compute

: throw needles at a table or frozen hot dogs on the floor. Party time!
SUNSET PLANETS: When the sun sets tonight, go outside and look west. Jupiter and Mercury are beaming through the twilight: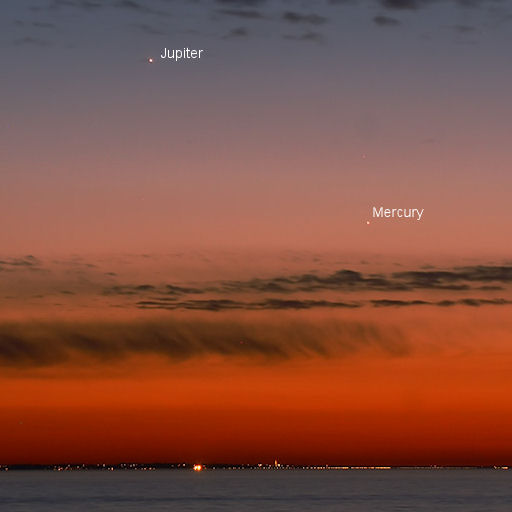 Pete Lawrence took the picture on March 13th from Selsey UK. The largest and smallest planets in the Solar System were in conjunction in the evening twilight. It was a glorious sight."
Jupiter and Mercury will be on display all week. Tuesday, March 14th, and Wednesday, March 15th, are the best evenings to look as the two worlds converge to a scant separation of about 2o. Keep an eye on the sunset!
more images: from Tavi Greiner of Shallotte, NC; from Pete Glastonbury of Devizes, Wiltshire, UK
CAUTIONARY TALE: This week marks t he 22nd anniversary of the Quebec Blackout. On March 13, 1989, a geomagnetic storm brought down Hydro-Québec's power grid and blacked out the entire province. Brownouts and other power irregularities were experienced across much of North America. Today's "smart power grids" are even more vulnerable because they are interconnected by high voltage lines spanning thousands of miles. In good times, this arrangement allows ultilities to guide power wherever it might be needed. During geomagnetic storms, however, it spreads the danger of a blackout far and wide. What we need is a Solar Shield.
SUBSIDING STORMS: The geomagnetic storms of March 10th and 11th are subsiding. Earth's magnetic field began shaking on March 10th in response to a CME impact; the reverberations continued for more than 24 hours. In Sweden the auroras were so bright, they competed with campfires: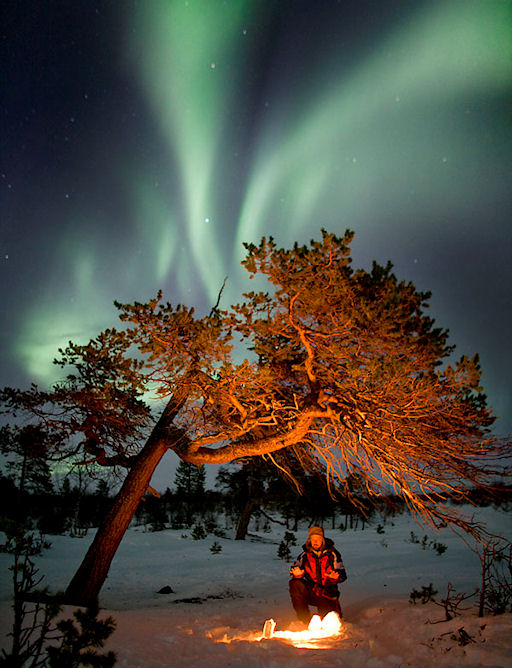 "When I was sitting next to the fire and had the Aurora dancing above me, I felt like it could have been 100 years ago," says photographer Peter Rosén in Sweden's Abisko National Park. "I wonder what people thought when they saw this phenomenon in centuries past. Old stories say that the Sami people believed the Aurora was home for the spirits of the dead, and that we should show respect when the lights appeared."
They could appear again, soon. A new solar wind stream is buffeting Earth's magnetic field today, and NOAA forecasters estimate a 10% chance of severe geomagnetic storms. Get your aurora alerts here!
March 2011 Aurora Photo Gallery
[previous Marches: 2010, 2009, 2008, 2007, 2006, 2005, 2004, 2003, 2002]