| | | |
| --- | --- | --- |
| They came from outer space--and you can have one! Genuine meteorites are now on sale in the Space Weather Store. | | |
MYSTERY SPHERES ON MARS: NASA's Mars rover Opportunity, still active after all these years, has just discovered a dense accumulation of puzzling little spheroids in a rock outcrop on the Red Planet. [full story]
ASTEROID FLYBY: Today, an asteroid as wide as three football fields is flying past Earth. At closest approach, 2012 QG42 will be 2.8 million km (7.4 lunar distances) away, so there is no danger of a collision. Nevertheless, it is close enough for backyard astronomers to track using large amateur telescopes; the space rock is glowing like a 14th magnitude star. [movie] [3D orbit] [ephemeris]
ROCKET EXHAUST: The White Sands Missile Range in New Mexico conducted a test of the Patriot interceptor yesterday, producing iridescent rocket exhaust visible as far away as Phoenix AZ, Las Vegas NV, and Salt Lake City UT. David Blanchard photographed the display from Flagstaff, Arizona: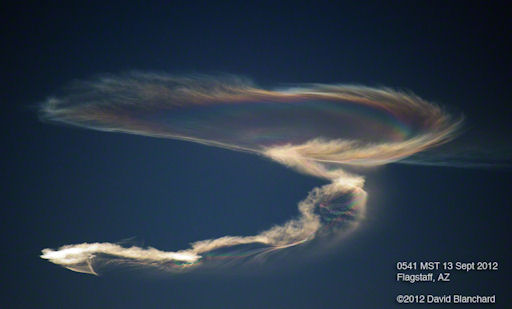 The test proceeded as follows: A Juno rocket was launched from Fort Wingate in Gallup, New Mexico. This served as the target for another missile, the Patriot Advanced Capability 3 interceptor, launched shortly thereafter from White Sands. A press release from White Sands confirmed the test and stated that "the
Juno performed as expected."
In a wide-angle view, Blanchard captured the exhaust from both missiles. "The crescent Moon overhead was a beautiful bonus," he says.
As the rockets raced through the high atmosphere, water vapor in their exhaust crystalized to form tiny ice crystals. The crystals diffracted the light from the rising sun to produce the iridescent colors. More images: #1, #2, #3, #4, #5, #6, #7,
JUPITER SWALLOWS AN ASTEROID: Around the world, amateur astronomers have been scanning the cloudtops of Jupiter for signs of debris from an explosion witnessed by Dan Peterson and George Hall on Sept. 10th. So far the cloud layer is blank. "Several observers have now obtained excellent images on the second and third rotations after the fireball, and there is nothing new nor distinctive at the impact site," reports John H. Rogers, director of the Jupiter Section of the British Astronomical Association: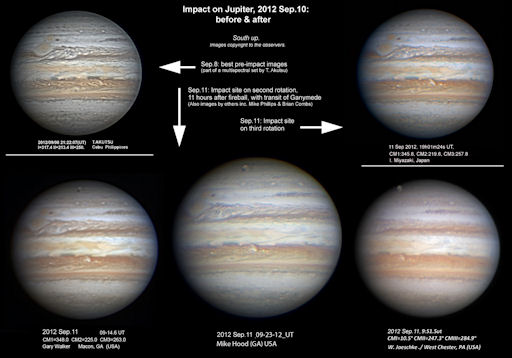 The fireball was probably caused by a small asteroid or comet hitting Jupiter. Apparently, the giant planet swallowed the impactor whole.
When fragments of Comet Shoemaker-Levy 9 hit Jupiter in 1994, each major flash observed by NASA's Galileo spacecraft produced a "bruise," a murky mixture of incinerated comet dust and chemically altered Jovian gas twisting and swirling among the clouds. In July 2009, amateur astromer Anthony Wesley discovered a similar mark thought to be debris from a rogue asteroid crashing into the planet.
So where is the debris this time? Perhaps the impactor was small, packing just enough punch to make a flash, but without leaving much debris. Indeed, studies suggest that Jupiter is frequently struck by relatively small 10-meter-class asteroids. In such cases, minimal debris is to be expected.
Stay tuned for updates in case something surfaces.
Realtime Space Weather Photo Gallery
---
---
Realtime Noctilucent Cloud Photo Gallery
[previous years: 2003, 2004, 2005, 2006, 2007, 2008, 2009, 2011]