| | | |
| --- | --- | --- |
| Thirty-five new items have just been added to our Meteorite Jewelry collection. Browse the Space Weather Store for something out of this world. | | |
MORNING MISSILE SHOW: This morning in Arizona, New Mexico and Nevada, early risers witnessed a plume of iridescent gas twisting in the dawn sky. It was the icy exhaust of a Juno rocket launched from Fort Wingate in Gallup, New Mexico. The Juno was a target for another missile, a Patriot interceptor, launched shortly thereafter. This military test was conducted by the White Sands Missile Range. Images: #1, #2, #3, #4
POLAR LIGHTS: In the Arctic, springtime ended months ago. Nevertheless, butterflies have been sighted. This one appeared last night over Grøtfjord, Norway: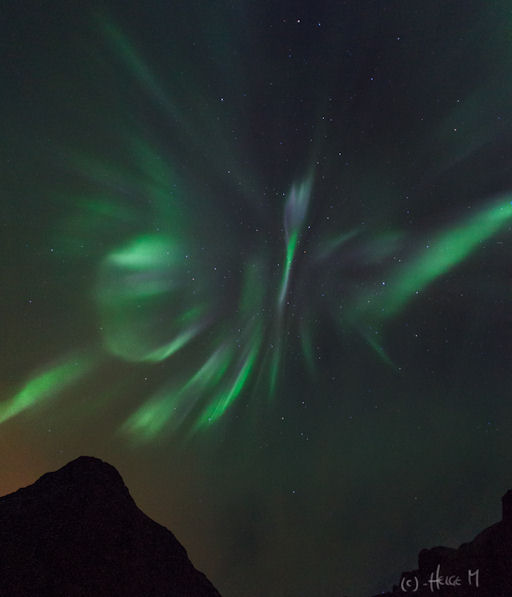 Helge Mortensen took the picture on Sept. 12th. "The auroras were not a strong as some I've seen, but it was still nice to be outside and watch such a beautiful apparition," he says.
This Northern Lepidoptera appeared when a "kink" in the interplanetary magnetic field (IMF) drifted past Earth, briefly opening a crack in our planet's magnetosphere. Solar wind poured in to fuel the display. At the peak of the storm, the Arctic Circle was glowing from Scandinavia to Iceland to Canada.
Earth's polar magnetic field is settling down again, but more Arctic auroras are in the offing, especially on Sept 14-15 when a solar wind stream is expected to reach our planet. Check the gallery for latest images from around the poles.
JUPITER SWALLOWS AN ASTEROID: Around the world, amateur astronomers have been scanning the cloudtops of Jupiter for signs of debris from an explosion witnessed by Dan Peterson and George Hall on Sept. 10th. So far the cloud layer is blank. "Several observers have now obtained excellent images on the second and third rotations after the fireball, and there is nothing new nor distinctive at the impact site," reports John H. Rogers, director of the Jupiter Section of the British Astronomical Association: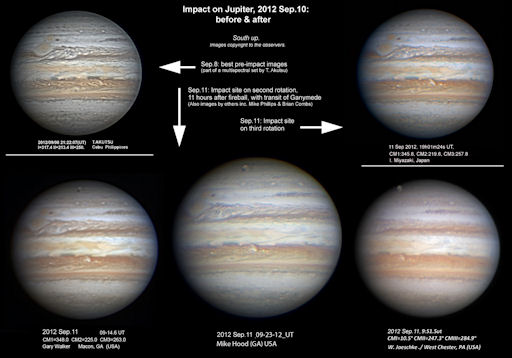 The fireball was probably caused by a small asteroid or comet hitting Jupiter. Apparently, the giant planet swallowed the impactor whole.
When fragments of Comet Shoemaker-Levy 9 hit Jupiter in 1994, each major flash observed by NASA's Galileo spacecraft produced a "bruise," a murky mixture of incinerated comet dust and chemically altered Jovian gas twisting and swirling among the clouds. In July 2009, amateur astromer Anthony Wesley discovered a similar mark thought to be debris from a rogue asteroid crashing into the planet.
So where is the debris this time? Perhaps the impactor was small, packing just enough punch to make a flash, but without leaving much debris. Indeed, studies suggest that Jupiter is frequently struck by relatively small 10-meter-class asteroids. In such cases, minimal debris is to be expected.
Stay tuned for updates in case something surfaces.
Realtime Space Weather Photo Gallery
---
Realtime Noctilucent Cloud Photo Gallery
[previous years: 2003, 2004, 2005, 2006, 2007, 2008, 2009, 2011]