CLOSE CALL: A 10-centimeter piece of space junk passed within a few kilometers of space shuttle Atlantis at 7:28 p.m. EDT on May 13th. It was a piece of the Fengyun-1C satellite destroyed by a Chinese anti-satellite weapon in January 2007. Ground controllers knew the fragment was coming and decided correctly that no maneuvers were required to avoid it.
SPACESHIPS IN THE SUN: Award winning astrophotographer Thierry Legault wanted to image the Hubble Space Telescope and space shuttle Atlantis traveling together around Earth. But how? The pair wouldn't fly over his hometown in France during the ongoing servicing mission. To catch the rare meeting of spaceships, he decided to do some traveling of his own--all the way to Florida. Yesterday, from a location 100 kilometers south of the Kennedy Space Center, he pointed his telescope at the sun and there they were: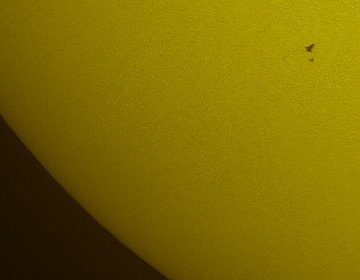 "I took this picture of Atlantis and HST transiting the sun on May 13th at 12:17 p.m. EDT. It was just before the shuttle reached out with its robotic arm to grapple Hubble," says Legault. "The two spaceships were at an altitude of 600 km and they zipped across the sun in only 0.8 seconds." He captured the split-second transit using a solar-filtered Takahashi 5-inch refracting telescope and a Canon 5D Mark II digital camera.
Hours later, Hubble was safely stowed inside the shuttle's cargo bay, setting the stage for a series of five spacewalks to refit the telescope. The first of those spacewalks happened earlier today. Astronauts removed Hubble's Wide Field Planetary Camera 2 and replaced it with the new Wide Field Camera 3. They also replaced a failed science data processing computer. These upgrades and others are expected to extend Hubble's life until 2014. [more]
SOLAR ACTIVITY: Astronomers are monitoring a bright splash of magnetic activity in the sun's northern hemisphere. "Parts of the region were so bright that it was challenging to capture surface detail without overexposing the bright areas," says John Stetson, who sends this image from South Portland, Maine: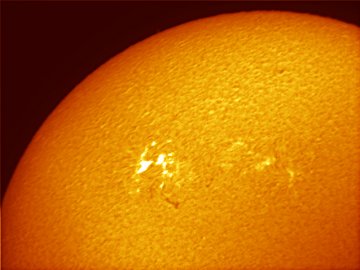 Stetson was assisted in the observations by student C. Swiger. "It was his first observing session," says Stetson.
To obtain the image, Swiger and Stetson used an H-alpha telescope tuned to the red glow of solar hydrogen. The bright spots they saw overlie the dark cores of sunspot group 1017, a member of new Solar Cycle 24. This active region poses no threat for strong solar flares--its magnetic field is too simple for that--but it is very photogenic. Readers with solar telescopes should take a look.
more images: from Andy Yeung of Hong Kong, China; from Andy Tennant of Edinburgh, Scotland
---
April 2009 Aurora Gallery
[previous Aprils: 2008, 2007, 2006, 2005, 2004, 2003, 2002]
---