HUBBLE CAPTURED: "Hubble has arrived onboard Atlantis!" That was the enthusiastic radio message shuttle astronauts sent to Houston at 1:14 pm EDT today after they had grappled Hubble using the shuttle's robotic arm and started the process of berthing the telescope in the shuttle's payload bay. The successful capture of Hubble sets the stage for servicing. In the days ahead, astronauts will conduct five spacewalks to repair and upgrade the telescope, extending Hubble's operational life until at least 2014.
Minutes before Hubble was captured, astronauts snapped this picture--the first close-up view of the great telescope since March 2002:
Both Atlantis and Hubble are visible to the unaided eye when they pass overhead in the night sky. Check the Simple Satellite Tracker to see if you are favored with a flyby.
SHADOWS VANISH IN INDIA: Today in Pune, India, Anirudh Walvekar stepped out of his office for lunch and noticed something missing. "Our shadows were gone!" he says. A second look revealed them to be merely underfoot: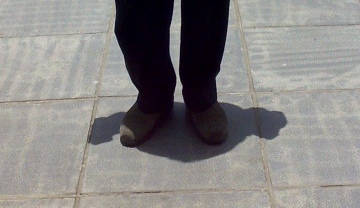 "On May 13, 2009, at 12:30pm local time, the sun was directly above our heads in Pune, causing shadows to disappear," he explains. In the language of astronomy, the declination of the sun was +18.4 degrees, precisely equal to the latitude of Pune. "This phenomenon occurs twice a year, once in Spring when the sun passes overhead going north, and again in Summer (July 30th) when it returns to the south."
Tomorrow, May 14th, noon shadows will return to Pune, but they will disappear somewhere else as the sun continues its springtime journey north. If the latitude of your hometown happens to be +18.6 degrees, go outside on and look for your shadow. Hint: Look underfoot.
NOT A SUNSPOT: Solar activity comes in many forms. Today, astronomers are monitoring an enormous patch of seething magnetism churning through the sun's surface in a splash of bright, white froth. It is not a sunspot, but it is worth a look: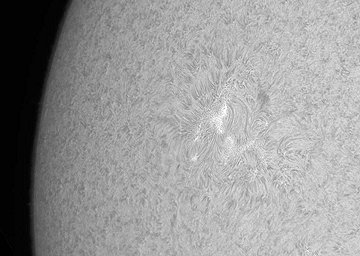 "The region is enormous," says photographer Andy Yeung of Hong Kong. "It's amazing!" He took the picture just hours ago using a 5-inch refractor capped with a LS100F Lunt solar filter.
The active region could be a "proto-sunspot"--a sunspot struggling to form, but not quite able to organize its own magnetic fields into a coherent, dark core. Or it could be a "sunspot corpse"--the decaying remains of a farside sunspot turning toward Earth at the end of its short life. Whatever it is, its magnetic polarity identifies it as a member of new Solar Cycle 24--and that makes it a sign of things to come.
---
April 2009 Aurora Gallery
[previous Aprils: 2008, 2007, 2006, 2005, 2004, 2003, 2002]
---