| | | |
| --- | --- | --- |
| They came from outer space--and you can have one! Genuine meteorites are now on sale in the Space Weather Store. | | |
CHANCE OF FLARES: NOAA forecasters estimate a 65% chance of M-class solar flares, and a 10% chance of X-flares today. The probable source would be big sunspot AR1654, which is squarely facing Earth. Solar flare alerts: text, voice.
ARCTIC AURORAS: A stream of solar wind is blowing around Earth and buffeting our planet's magnetic field. Although the pressure of the wind has not been strong enough to trigger a full-fledged geomagnetic storm, auroras are nevertheless dancing around the Arctic Circle. Peter Rosén sends this picture from Kiruna in the Swedish Lapland: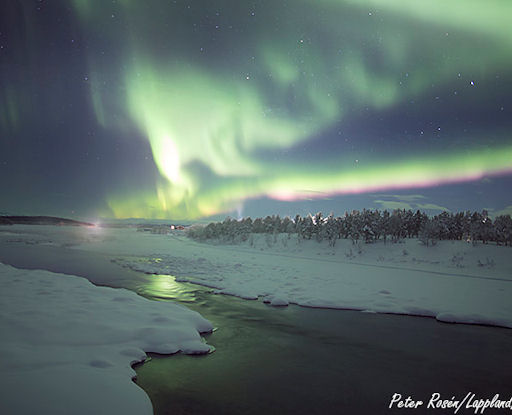 "Blue jeans, 1 meter of soft snow, and a temperature of -15 degrees is usually not a good combination," says Rosen. "But who cares when the aurora dances above your head like they did last night (Jan. 13th). The lights kept me warm the entire night. It was the most powerfull aurora so far for me this winter."
More auroras are in the offing. NOAA forecasters estimate a 15% chance of polar geomagnetic activity as the solar wind continues to blow. Aurora alerts: text, voice.
BIG SUNSPOTS IN THE MORNING: Sunspot AR1654 is so large, people are starting to notice it with their naked eyes when the sun is dimmed by clouds or mist. This morning, Jan. 14th, Göran Strand photographed the behemoth at sunrise over Frösön, Sweden: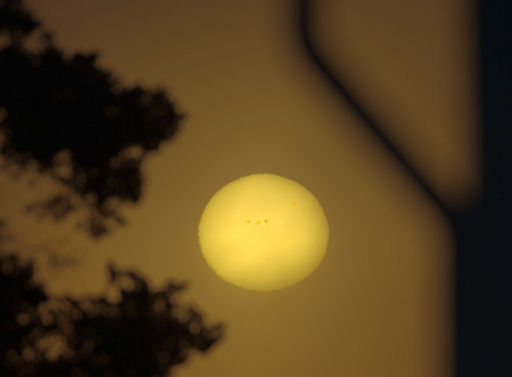 "The weather was very cold, -20 degrees Celsius and there was a light mist that made it possible to shoot right at the Sun without any filters," says Strand. "In the foreground you can see the downpipes on my neighbor's house."
To take the picture, Strand set his Nikon D800E digital camera as follows: 510mm/f4.8, ISO 400, 1/6000 sec. Sky watchers who wish to photograph the spot should take note of those settings, but be careful. Even when the sun is dimmed, viewing it through unfiltered optics is every dangerous. One stray beam of magnified sunlight can blind you. Use the digital viewfinder to safely align the camera.
Realtime Space Weather Photo Gallery
COMET ISON APPROACHES: Later this year, Comet ISON could put on an unforgettable display as it plunges toward the sun for a fiery encounter likely to turn the "dirty snowball" into a naked-eye object in broad daylight. At the moment, however, it doesn't look like much. John Chumack sends this picture, taken Jan. 8th, from his private observatory in Yellow Springs, Ohio: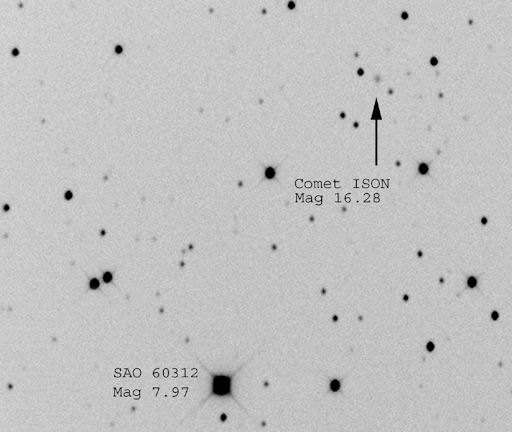 "Comet ISON (C/2012 S1) is currently in the constellation Gemini, moving between the heads of the twins Castor and Pollux," says Chumack. "It is still pretty faint, near 16th magnitude, but don't be fooled by that. This could become one of the best comets in many years."
Comet ISON is a sungrazer. On Nov. 28, 2013, it will fly through the sun's outer atmosphere only 1.2 million km from the stellar surface below. If the comet survives the encounter, it could emerge glowing as brightly as the Moon, visible near the sun in the blue daylight sky. The comet's dusty tail stretching into the night would create a worldwide sensation.
Comet ISON looks so puny now because it is so far away, currently near the orbit of Jupiter. As it falls toward the sun in the months ahead it will warm up and reveal more about its true character. By the summer of 2013, researchers should know whether optimistic predictions about Comet ISON are justified. Possibilities range from "Comet of the Century" to disintegrated dud. Stay tuned!
---
Realtime Noctilucent Cloud Photo Gallery
[previous years: 2003, 2004, 2005, 2006, 2007, 2008, 2009, 2011]