| | | |
| --- | --- | --- |
| Metallic photos of the sun by renowned photographer Greg Piepol bring together the best of art and science. Buy one or a whole set. They make a stellar gift. | | |
AURORA WATCH: Earth is entering a stream of moderately-fast (500 km/s) solar wind. This could spark geomagnetic activity around the poles tonight. High-latitude sky watchers should be alert for auroras. Aurora alerts: text, voice.
ACTIVE SUNSPOT: Big sunspot AR1654 is crackling with C- and M-class solar flares, and it poses a threat for even stronger eruptions. NOAA forecasters estimate a 10% chance of X-flares today. Solar flare alerts: text, voice.
Flares are illuminating the sunspot's magnetic canopy like flash bulbs at a rock concert; the phenomenon is evident in this 37-hour extreme ultraviolet movie from NASA's Solar Dynamics Observatory: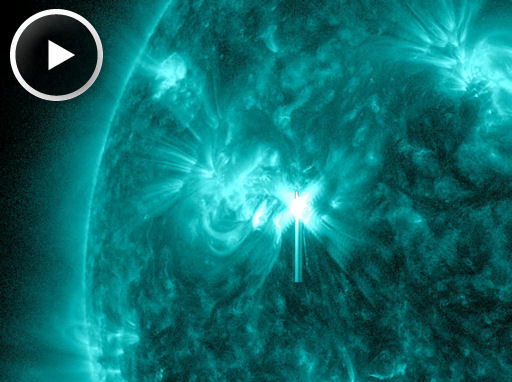 Since it first appeared four days ago, sunspot AR1654 has been facing away from Earth. But now it is turning toward us, increasing the "geo-effectiveness" of its explosions. This could be the sunspot that breaks the recent lengthy spell of calm space weather around our planet.
Amateur astronomers with backyard solar telescopes are encouraged to monitor in the days ahead. It is not only crackling, but also growing. As of Jan 12th, the behemoth stretches more than 180,000 km (14 Earth diameters) from end to end. Dennis Simmons sends this picture of the behemoth from Brisbane, Australia: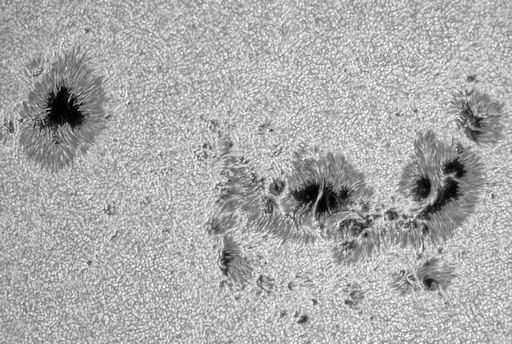 "Although the air was milky from nearby bush fires burning north of Brisbane, the seeing turned out to be good enough for a high-resolution shot," says Simmons. "I dedicate this image to the brave Australian fire fighters, working in horrendous, hot and windy conditions whilst fighting fires burning out of control across the south-east states of our country. I salute your selfless courage."
Realtime Space Weather Photo Gallery
COMET ISON APPROACHES: Later this year, Comet ISON could put on an unforgettable display as it plunges toward the sun for a fiery encounter likely to turn the "dirty snowball" into a naked-eye object in broad daylight. At the moment, however, it doesn't look like much. John Chumack sends this picture, taken Jan. 8th, from his private observatory in Yellow Springs, Ohio: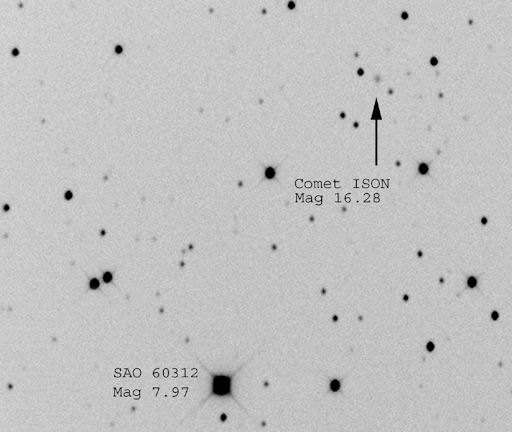 "Comet ISON (C/2012 S1) is currently in the constellation Gemini, moving between the heads of the twins Castor and Pollux," says Chumack. "It is still pretty faint, near 16th magnitude, but don't be fooled by that. This could become one of the best comets in many years."
Comet ISON is a sungrazer. On Nov. 28, 2013, it will fly through the sun's outer atmosphere only 1.2 million km from the stellar surface below. If the comet survives the encounter, it could emerge glowing as brightly as the Moon, visible near the sun in the blue daylight sky. The comet's dusty tail stretching into the night would create a worldwide sensation.
Comet ISON looks so puny now because it is so far away, currently near the orbit of Jupiter. As it falls toward the sun in the months ahead it will warm up and reveal more about its true character. By the summer of 2013, researchers should know whether optimistic predictions about Comet ISON are justified. Possibilities range from "Comet of the Century" to disintegrated dud. Stay tuned!
---
---
Realtime Noctilucent Cloud Photo Gallery
[previous years: 2003, 2004, 2005, 2006, 2007, 2008, 2009, 2011]