Where's Saturn? Is that a UFO--or the ISS? What's the name of that star? Get the answers from mySKY--a fun new astronomy helper from Meade.

SOLAR ACTIVITY: "The disk of the sun might look blank, but the edge is positively alive," reports Pete Lawrence of Selsey, UK, who photographed an active prominence just hours ago. "The only downside of this large and complicated prominence is the fact that it's on the Sun's western limb, which means it's about to rotate out of view." Readers, if you have a solar telescope, check it out before it disappears.

AURORA WATCH: 2008 has been a good year for auroras with Northern Lights over the arctic realm every night so far. Even polar bears have turned into sky watchers: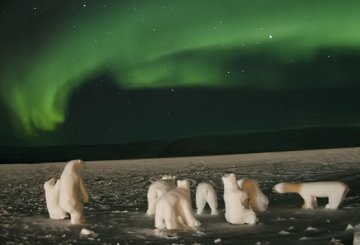 Disclaimer: These "bears" are made of snow. There are no polar bears in the village of Salluit, Nunavik, Quebec, where Sylvain Serre took the picture on Jan. 9th. Nevertheless, the principle is sound: Somewhere up there, polar bears must be watching.
Northerners of all species should be alert for more auroras tonight. A solar wind stream is blowing against Earth causing geomagnetic storms over Russia, Alaska, Canada and Scandinavia.
EVASIVE MANEUVERS: "Last night, I was observing at Stardate 2008, a star party in Hastings, New Zealand, when the International Space Station flew overhead," reports Graham Palmer. "I quickly grabbed my camera (a Canon 350D), screwed it onto the tripod, and hit the button for an ISS trail shot. However, I didn't get the result I expected. The space station did an evasive maneuver to avoid hitting Orion's Belt!"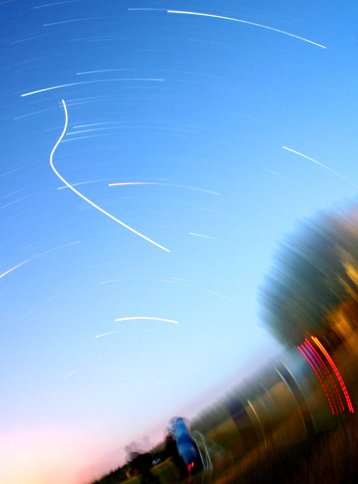 Here's what really happened: "It turns out I hadn't tightened the camera knuckle properly. The camera slowly tilted during the 68-second exposure, resulting in the weirdest star trail shot I've ever seen. It was quite a happy accident." [ISS flyby alerts]
---
Comet 17P/Holmes Photo Gallery
[World Map of Comet Sightings]
[sky map] [comet binoculars] [ephemeris] [3D orbit]