| | | |
| --- | --- | --- |
| BEHOLD THE SUN: Would you like to see fiery prominences and new-cycle sunspots with your own eyes? On sale now: Personal Solar Telescopes. | | |
NEW SUNSPOT: A new sunspot is emerging near the sun's northeastern limb. It's the biggest active region in months and appears to be a member of new Solar Cycle 24. Readers, if you have a solar telescope, now is the time to watch sunspot genesis in action.
images: from Pete Lawrence of Selsey, West Sussex, UK; from Andy Tennant of Edinburgh, Scotland; from Cai-Uso Wohler of Bispingen, Germany;
AURORA ALERT: A geomagnetic storm is in progress. Sky watchers from Alaska to Scandinavia, and even as far south as US states like Minnesota and Wisconsin, should be alert for auroras tonight. Good displays are already underway in Finland: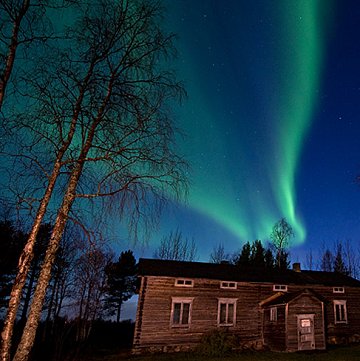 "Finally some good auroras and no clouds!" exclaims photographer Sauli Koski of Kittila, Finland. He took this picture and others using a Nikon D3 digital camera, opening the shutter for 8 seconds at 1000 asa.
The storm began earlier today when a solar wind stream hit Earth's magnetic field. Reverberations, and bright lights in the sky, could continue for the next 24 hours. Stay tuned for photos.
Oct. 2008 Aurora Gallery
[Previous Octobers: 2007, 2006, 2004, 2003, 2002, 2001, 2000]
DAYLIGHT TRANSIT: How bright is the International Space Station (ISS)? Consider the following: On Oct. 10th, Joe Ricci of Rochester, New York, saw the massive spacecraft with his naked eye 20 minutes before sunset. Framed by blue sky, it was heading for the Moon: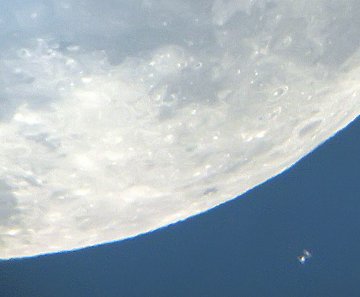 "The Moon was just 16o above the horizon when the ISS passed in front of it," says Ricci. "I attached my Canon PowerShot SD750 to the eyepiece of an Orion XT8 telescope and photographed the transit with a series of 1/640 second exposures." In the final snapshot, we see that the surface brightness of the ISS rivals that of the Moon itself.
Now imagine what the space station looks like when the sky is actually dark! Check the satellite tracker for viewing times.
more images: from Bob Hillenbrand of Samsula, Florida; from Paulo Casquinha of Palmela, Portugal; from Mike Borman of Evansville, Indiana; from Wienie van Der Oord in the Arava desert of Israel