| | | |
| --- | --- | --- |
| Where's Saturn? Is that a UFO--or the ISS? What's the name of that star? Get the answers from mySKY--a fun new astronomy helper from Meade. | | |
AURORA WATCH: A solar wind stream is buffeting Earth's magnetic field and causing high-latitude geomagnetic storms. Sky watchers from Alaska to Scandinavia should be alert for auroras: gallery.
NIGHT LAUNCH: The latest space shuttle mission began Tuesday morning in unusual fashion--with a night launch. At 2:28 am Florida time, Endeavour roared off its launch pad at Kennedy Space Center and lit up the sky like an early sunrise: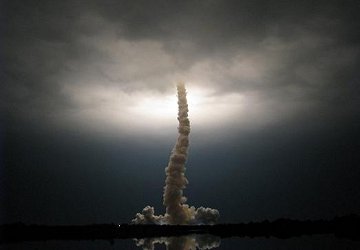 Photo credit: "Martin" shooting from KSC's press site.
The ascent was so bright, people as far away as Massachusetts saw it. Chris Cook took this picture from Cape Cod, more than a thousand miles from the launch site. "I watched the show with some 10x50 binoculars," says Cook. "I could easily pick out the shuttle's main engines glowing. But what really caught me was the way it moved 'effortlessly' across the starry backdrop..... very cool!!"
more images: from Pam Winegar of Malabar, Florida; from Chuck Clevenstine of Titusville, Florida; from Edward Staples at the Kennedy Space Center;
UPSIDE DOWN WORLD: With the approach of northern spring, icicles are starting to melt. Find one, examine the tip, and behold--an upside down world: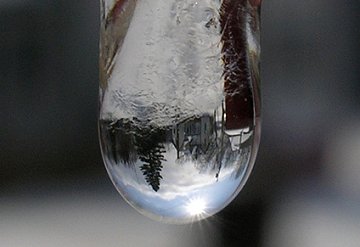 Photographer Lois Reinert sends this picture and others from Tracy, Minnesota. "The water drop acts like a convex lens and inverts any scenery in the background. Images in these droplets are always fun to observe." But look quickly, because you know what happens next!
more images: from Iain Petrie of London, England
---
March 2008 Aurora Gallery
[aurora alerts] [night-sky cameras]