| | | |
| --- | --- | --- |
| Where's Saturn? Is that a UFO--or the ISS? What's the name of that star? Get the answers from mySKY--a fun new astronomy helper from Meade. | | |
LIFTOFF! Early this morning at 02:28 EDT, space shuttle Endeavour roared into the starry sky over Kennedy Space Center; it was a rare and breathtaking nighttime launch. "Due to low cloud cover, our view was truncated," reports photographer Chuck Clevenstine of Titusville, Florida, "but the liftoff was still amazing." During Endeavour's 16-day mission, astronauts will deliver a Canadian robot ("Dextre") and attach the first piece of a Japanese science lab ("Kibo") to the International Space Station. Stay tuned for updates.
more images: from Pam Winegar of Malabar, Florida
ALL NIGHT LONG: The crisp and sparkling night skies of winter are a joy to behold. But how many of us have beheld the whole thing--the entire sky from dusk 'til dawn? Last night in Rochester, New Hampshire, photographer Larry Landolfi decided to find out what it was like. Click on the image to play his movie: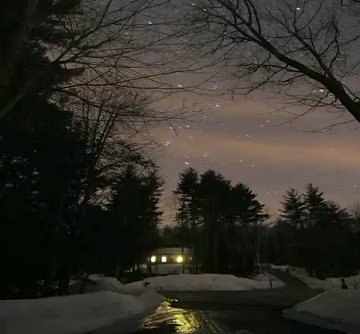 Click to play a 500 kB Quicktime movie
"Using my Canon 10D, I made a series of two minute exposures of the sky above my house. Then I stitched them together into a movie," he explains. "It goes from about 9 pm last night to 6 am this morning. Wouldn't you just love being my neighbor!?" (With skies like that--yes, please.)
JULES VERNE: On Sunday, March 9th, Europe put a new spaceship in Earth orbit--the Jules Verne. The next morning, Marco Langbroek watched it soar over his home in downtown Leiden, the Netherlands: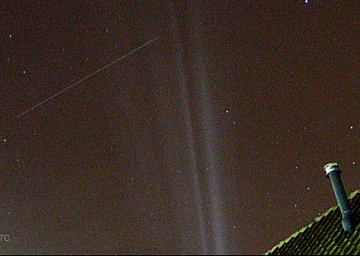 "It emerged from Earth's shadow in the constellation Ophiuchus and quickly brightened to magnitude +0.5," describes Langbroek. The blue spray of light from the bottom of the frame is "lens glare due to lights illuminating the courtyard where I took the picture."
Also known as the ATV (short for "automated transfer vehicle"), Jules Verne is an unmanned, robotic spaceship able to carry almost 8 tons of equipment and supplies to the International Space Station (ISS). This is its maiden voyage. For the next few weeks, Jules Verne will perform a series of test maneuvers in Earth orbit, approaching and following the ISS and finally docking with the station after space shuttle Endeavour departs on March 25th.
Langbroek's sighting shows that Jules Verne is almost twice as bright as a first magnitude star, making it an easy target for the naked eye, digital cameras or backyard telescopes. Would you like to see it? Sign up for Spaceweather PHONE to receive telephone and email alerts when Jules Verne is about to fly over your home town. Or check Heaven's Above for local flyby time tables.
more images: from Paul Evans of Larne, Northern Ireland; from Steven Graham of Christchurch, New Zealand; from Michel Vandeputte of Ronse, Belgium;
---
March 2008 Aurora Gallery
[aurora alerts] [night-sky cameras]