| | | |
| --- | --- | --- |
| Metallic photos of the sun by renowned photographer Greg Piepol bring together the best of art and science. Buy one or a whole set. They make a stellar gift. | | |
LAST DOCKING: On Sunday, July 10th, for the 12th and final time, space shuttle Atlantis docked to the International Space Station (ISS). The combined crew of 10 now commences more than a week of docked operations, transferring vital supplies and equipment to sustain ISS in the post-shuttle era. Sky watchers in Australia and New Zealand are favorably positioned to see the docked pair flying through the sky in the nights ahead. Flyby predictions: web-based, iPhone app, Android app.
INCOMING CME: A coronal mass ejection (CME) that billowed away from sunspot 1247 on July 9th could hit Earth's magnetic field on July 12th. Because the CME was not squarely Earth-directed and is not traveling at great speed, only minor geomagnetic storming is expected when the cloud arrives. Bonus: The SDO team has just prepared a beautiful movie of the explosion that produced the CME.
SUNSPOT CHAIN: Sunspot group 1247 is expanding rapidly and in an interesting way. The active region is organizing itself as a linear chain of sunspots, denoted by the rectangle in this July 10th image from the Solar Dynamics Observatory:

From end to end, the chain stretches more than 200,000 km, which makes it an easy target for backyard solar telescopes. Some observers prefer H-alpha telescopes tuned to the red glow of solar hydrogen, but for watching behemoth sunspots evolve, nothing beats a white light observing system. Monitoring is encouraged.
more images: from Enrico Perissinotto of Premariacco (UD) Italy; from Cai-Uso Wohler of Bispingen, Germany; from David Evans of Coleshill, North Warwickshire, UK; from John Stetson of Falmouth, Maine; from Bob Yoesle of Goldendale, Washington; from Gianfranco Meregalli of Milano Italy;
ELECTRIC BLUE MORNING: On Sunday morning, July 10th, a bank of noctilucent clouds (NLCs) swept across Europe. Instead of the usual rosy-red, the sunrise over Poland was electric blue: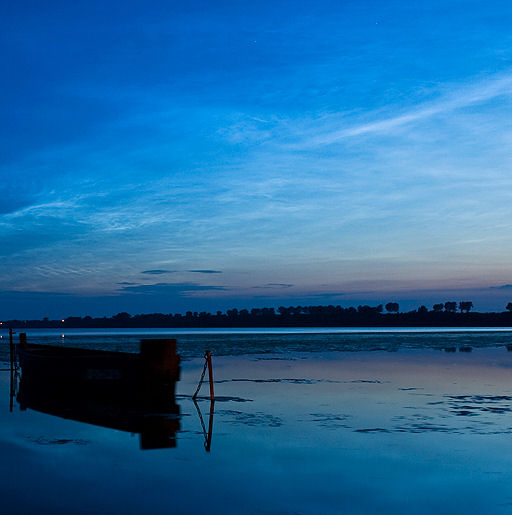 "This morning I witnessed a spectacular display of NLCs--the best I've ever seen," reports photographer Marek Nikodem of Szubin, Poland. "The clouds were more than 180 degrees wide and 100 degrees high. It was a fantastic show."
July 2011 has been a banner month for these mysterious clouds. Normally confined to polar latitudes, NLCs have been sighted in recent nights as far south as France in Europe and Kansas and Colorado in the United States. Sky watchers at all latitudes are encouraged to be alert for electric blue; observing tips may be found in the 2011 NLC photo gallery.
UPDATED: 2011 Noctilucent Cloud Gallery
[previous years: 2003, 2004, 2005, 2006, 2007, 2008, 2009]
---
June 2011 Aurora Gallery
[Aurora alerts: text, voice] [previous Junes: 2010, 2008, 2001]
---