| | | |
| --- | --- | --- |
| They came from outer space--and you can have one! Genuine meteorites are now on sale in the Space Weather Store. | | |
INCOMING CME: During the early hours of July 9th, a coronal mass ejection (CME) billowed away from new sunspot 1247. A preliminary analysis of data from NASA's twin STEREO-A and -B spacecraft suggests that the flank of the CME could hit Earth's magnetic field sometime on July 11th or 12th. This is not a major CME, but it could spark polar geomagnetic storms when it arrives. Stay tuned for updates.
LAST FLIGHT OF THE SPACE SHUTTLE: From now on, everything Atlantis does will be the last time a space shuttle does it. The storied orbiter blasted off from the Kennedy Space Center on July 8th for the final flight of NASA's 30-year shuttle program. Today, July 9th, Atlantis is chasing down the International Space Station and tomorrow, July 10th, the two spacecraft will dock--never to happen again.
En route to orbit Atlantis might have registered a first. Sharp-eyed viewers of NASA TV caught the shuttle casting a rainbow-ringed shadow, a "glory," on the clouds below: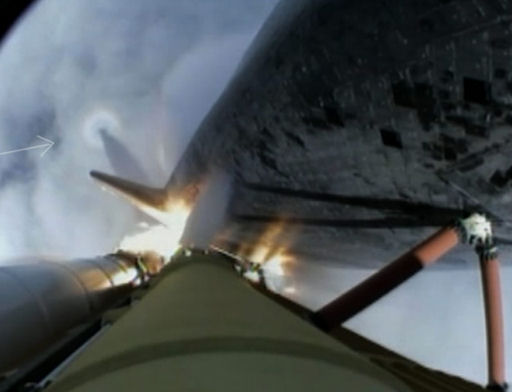 Atmospheric optics expert Les Cowley explains: "As it ascended through clouds, Atlantis lined up with the sun; the directions were perfect to form a colorful ringed glory. The glory tips the shadow of the shuttle in this view from the camera on the external fuel tank."
"The glory was quickly spotted by atmospheric optics observer Rafael Schmall in Hungary who was watching the launch on live NASA TV with a group of friends," Cowley says. "Thanks Rafael and also to Monika Landy-Gyebnár for the alert!"
"Glories are formed when small spherical water droplets in clouds and mist diffract and scatter sunlight backwards. They are often seen around the shadow of an airplane on clouds but this might well be the first, and sadly also the last, from an ascending shuttle."
Want to see the shuttle one last time? Download the shuttle tracking app or check the Simple Satellite Tracker for farewell flyby predictions.
more shuttle-shots: from Pete Lardizabal of Apollo Beach, FL, USA
SOLAR STATIC: On July 7th, the sun produced a series of strong shortwave radio bursts. Click on the dynamic spectrum below to play a 21 MHz sample recorded by amateur radio astronomer Thomas Ashcraft in rural New Mexico. The action begins about 18 seconds into the 2 minute recording: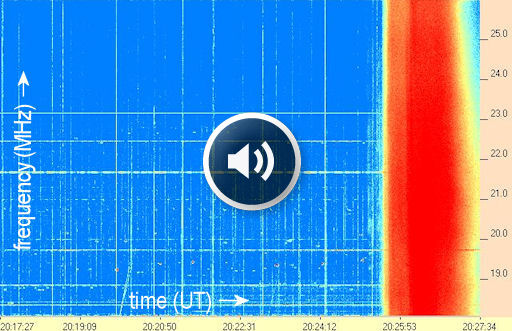 The roaring-static sound you just heard was a combo Type III-Type V solar radio burst caused by electron beams moving through the sun's outer atmosphere. The source of the electrons could be an newly-emerging sunspot group in the sun's southeastern quadrant, although this is not certain. The active region is crackling with C-class solar flares, and it could produce more radio sounds in the days ahead. Ham radio operators, point your Yagis toward the sun!
---
2011 Noctilucent Cloud Gallery
[previous years: 2003, 2004, 2005, 2006, 2007, 2008, 2009]
---
June 2011 Aurora Gallery
[Aurora alerts: text, voice] [previous Junes: 2010, 2008, 2001]
---