| | | |
| --- | --- | --- |
| NEW AND IMPROVED: Turn your iPhone or iPod Touch into a field-tested global satellite tracker. The Satellite Flybys app now works in all countries. | | |
SHUTTLE-STATION SIGHTINGS: Space shuttle Discovery has docked to the International Space Station, adding its brightness to that of the ISS. Sky watchers should be alert for the two spacecraft gliding through the twilight sky in the days ahead. Check the Simple Satellite Tracker for viewing times--and don't forget, there's an app for that, too.
images: from Becky Ramotowski of Tijeras, New Mexico; from Gary near the McDonald Observatory in west Texas; from Adrian New of San Antonio, Texas
THE VIEW FROM ANTARCTICA: A high-speed solar wind stream has been blowing around Earth for three days, sparking some of the strongest geomagnetic storms and brightest auroras in years. Here is the view, yesterday, from Antarctica: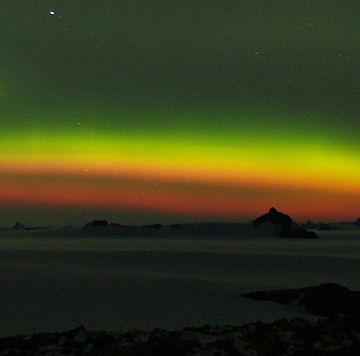 "This was the most intense and amazing natural phenomenon I have ever had the privilege of observing," says photographer André Harms. "It was such an exhilarating feeling when the sky just exploded in a kaleidoscope of moving colors."
Harms works at SANAE IV, the South African Antarctic research station in coastal Dronning Maud Land just inside the Antarctic Circle. The base itself is located on top of a distinctive flat-topped nunatak, which offers observers a fine view of the sky. The view could remain colorful for some days to come as the solar wiind continues to blow. Stay tuned!
April Northern Lights Gallery
[previous Aprils: 2009, 2008, 2007, 2006, 2005, 2004, 2003, 2002]
ROCKET CLOUDS: Space shuttle Discovery lifted off from Cape Canaveral on Monday morning, April 5th, on a 13-day mission to the International Space Station. Long after the shuttle disappeared from the brightening dawn sky, however, onlookers continued to stare ... at this: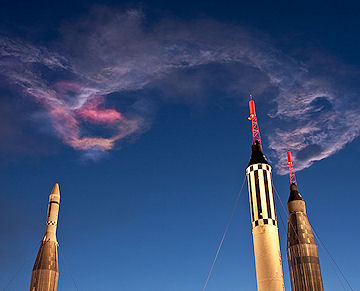 "I photographed the cloud twisting and turning over the Rocket Garden at the Kennedy Space Center Visitors Complex," says photographer Craig Crawford. "It was psychedelic."
Although it appears to be a strange brew of colorful chemicals, the cloud is in fact no more than a wispy plume of water droplets and ice crystals. The shuttle's main engines are fueled by liquid oxygen and liquid hydrogen--a combination that produces a lot of H2O. Rays from the morning sun painted the twisting plume with all the colors of the dawn. Psychedelic, indeed. Stay tuned for a different type of rocket cloud tomorrow.
more images:from Howard Cohen of Gainesville, Florida; from JA Cheong of Kennedy Space Center, FL; from Doug Shytle, PhD of Cape Canaveral, Florida; from Pete Lardizabal of Canaveral National Seashore Park, FL; from Dan Gore of Titusville, Florida; from William Hartenstein of Kennedy Space Center, FL; from Chuck Pek of Cocoa Beach, Florida; from Jacob Kuiper at the Kennedy Space Center's press site; from Mark Staples of Waldo, Florida;