| | | |
| --- | --- | --- |
| NEW AND IMPROVED: Turn your iPhone or iPod Touch into a field-tested global satellite tracker. The Satellite Flybys app now works in all countries. | | |
GEOSTORMS, CONTINUED: High-latitude sky watchers should remain alert for auroras. NOAA forecasters estimate a 45% chance of geomagnetic activity and a 10% chance of severe geomagnetic storms during the next 24 hours. The source of this activity is a fast and gusty solar wind stream that has been blowing around Earth for two days. [UPDATED: gallery].
SOUTHERN LIGHTS: The aurora-show has spread to the southern hemisphere. Here is what the sky looked like just hours ago in Antarctica: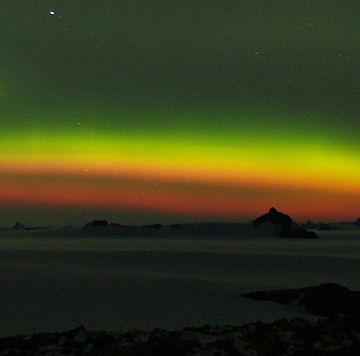 "This was the most intense and amazing natural phenomenon I have ever had the privilege of observing," says photographer André Harms. "It was such an exhilarating feeling when the sky just exploded in a kaleidoscope of moving colors."
Harms works at SANAE IV, the South African Antarctic research station in coastal Dronning Maud Land just inside the Antarctic Circle. The base itself is located on top of a distinctive flat-topped nunatak, which offers observers a fine view of the sky. The view could remain colorful for some days to come as the solar wiind continues to blow. Stay tuned!
April Northern Lights Gallery
[previous Aprils: 2009, 2008, 2007, 2006, 2005, 2004, 2003, 2002]
UNIQUE LIFTOFF: Veteran observers agree, Monday's launch of space shuttle Discovery was something special. "I've seen some truly spectacular shuttle launches since Columbia first rocketed into space in 1981, but the launch of STS-131 was in a whole new category," says Jonathan Sabin of Ellenton, Florida. He took this picture and explains the elements of it below: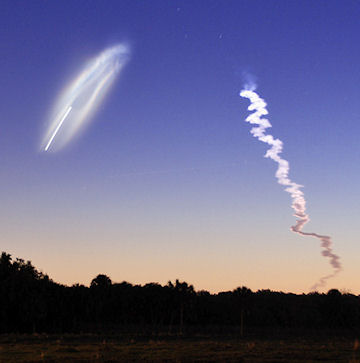 "Standing alone at the edge of a deserted cow pasture, I watched in awe as the craft first appeared over a line of trees about a quarter mile away. I was transfixed by the towering, backlit exhaust plume," says Sabin. "Next, something happened that I had never witnessed before. About half-minute or so after the solid rocket boosters (SRBs) separated, a plume appeared around the craft itself. A moving, nebulous 'blob' expanded and twisted as Discovery arched its way back toward the horizon en route to orbit."
The show continued even after the shuttle was out of sight. Ice crystals in Discovery's lingering exhaust caught the rays of the rising sun and formed a noctilucent cloud of startling brightness. "In all my 30 years of watching noctilucent clouds, I never have seen one like this," says astronomer Jacob Kuiper, who got a close-up view of the phenomenon from the Kennedy Space Center's Press Site. "The shuttle exhaust plume turned into a magnificent panorama of color."
more images: from Doug Shytle, PhD of Cape Canaveral, Florida; from Pete Lardizabal of Canaveral National Seashore Park, FL; from Dan Gore of Titusville, Florida; from William Hartenstein of Kennedy Space Center, FL; from Chuck Pek of Cocoa Beach, Florida; from Jacob Kuiper at the Kennedy Space Center's press site; from Mark Staples of Waldo, Florida