AURORA WATCH: Arctic sky watchers should be alert for Northern Lights next Wednesday and Thursday. A solar wind stream is heading for Earth and it could spark high-latitude geomagnetic storms when it arrives on March 11th or 12th. [gallery]
SATURN AT OPPOSITION: This is the weekend of Saturn. On Sunday, March 8th, the ringed planet will be at its closest to Earth for the entire year, and a marvelous sight through small telescopes. Christopher Go of Cebu City, Philippines, sends this photo he took last night using an 11-inch Celestron: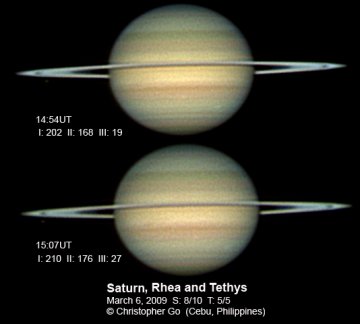 "Look at the rings. They are becoming very bright," points out Go.
He's right. The rings are experiencing the opposition effect. When Saturn is close to Earth, it is also directly opposite the sun: diagram. From our point of view on Earth, sunlight shines directly down on the rings. Ring particles hide their own shadows, producing a surge of reflected brightness.
"This phenomenon will peak on opposition night, March 8," says Go. "For contrasting images from recent weeks, please check my web site.
Finding Saturn: The planet rises in the east at sunset and soars almost overhead at midnight. Look for the bright, golden "star" in the constellation Leo: sky map.
KEPLER BLASTS OFF: NASA's Kepler spacecraft has left Earth on a mission to search for Earth-like planets circling other stars. Crowds cheered the spectacular night launch at 10:49 EST on March 6th from Cape Canaveral Florida: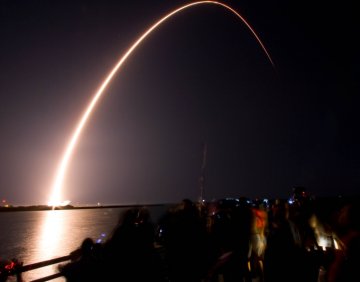 "It was magnificent!" says photographer Blake Estes who took the picture from Jetty Park. "Ground-lit solids [from the Delta II rocket] were beautiful as they fell to the ocean. They twinkled like Christmas tree lights as they tumbled through the atmosphere."
Kepler has signaled mission control that it has reached the proper orbit and its systems seem to be working fine. After a 60-day check-out period, Kepler will spend the next three and a half years surveying 100,000 stars in the Cygnus arm of the Milky Way galaxy for Earth-like planets in the Goldilocks Zone of their respective solar systems. Are we alone? Kepler may provide an answer. Stay tuned.
---
March 2009 Aurora Gallery
[previous Marches: 2008, 2007, 2006, 2005, 2004, 2003, 2002]
---
Comet Lulin Photo Gallery
[Comet Hunter Telescope] [Sky maps: March 5, 6, 7]
---