Would you like a phone call when geomagnetic storms erupt? Sign up for Spaceweather PHONE.
RADIATION STORM: A radiation storm is underway. Based on the energy and number of solar protons streaming past Earth, NOAA ranks the storm as category S3: satellites may experience single-event upsets and astronauts should practice "radiation avoidance."
The rush of protons may be a sign of an approaching CME (coronal mass ejection). Protons are accelerated in shock waves at the leading-edge of CMEs, so when the proton count rises, we can guess that a CME is en route. Northern sky watchers should remain alert for auroras, which could flare up if and when a CME arrives.
ANGRY SUNSPOT: Radio astronomer Thomas Ashcraft knew something was up yesterday when a loud roar came out of the loudspeaker of his 22 MHz shortwave receiver in New Mexico: Sunspot 930 had exploded again. The X6-class flare sent shock waves billowing through the sun's atmosphere, producing among other things a Type II solar radio burst: listen.
In Los Angeles, California, Gary Palmer watched the explosion through his Coronado SolarMax90: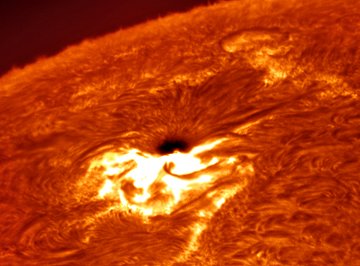 NOAA forecasters estimate a 50% chance of another X-flare during the next 24 hours. Further explosions could intensify the ongoing radiation storm and improve the chances for widespread auroras. Stay tuned.
BONUS: Even between explosions, a lot is happening around sunspot 930, as shown in this movie from French astronomer Pascal Paquereau. To create the animation, he combined "17 pictures taken every 2 minutes through my Coronado PST."
PLANETARY ALIGNMENT: Set your alarm. Jupiter, Mercury and Mars are converging, and they can be seen in the eastern sky at dawn shining through the rosy glow of sunrise: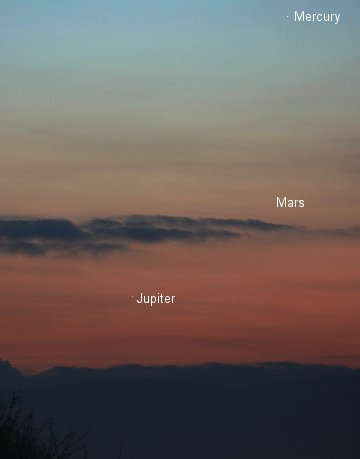 Photo details: Canon 300D, 135 mm lens, 1.3 sec, ISO 200.
Tunz Tezel took this picture from Bolu, Turkey, on Dec. 7th. It merely hints at what is to come in the mornings ahead. On Dec. 9th the three planets will form a tiny triangle about 1o wide. And on Dec. 10th, the best morning of all, Mercury and Jupiter will be less than 0.25o apart. The view through binoculars should be splendid. Don't miss it! Sky maps: Dec. 8, 9, 10, 11.