| | | |
| --- | --- | --- |
| KILLER APP: You can now experience the Perseid meteor shower on your iPhone. It's cloud-proof! Learn more and give it a try. | | |
INTENSIFYING PERSEIDS: The Perseid meteor rate is increasing as Earth plunges deeper into the debris stream of Comet Swift-Tuttle. International Meteor Organization observers are now counting 20 per hour: data. Forecasters say the rate could increase another tenfold to 200 per hour on peak night, Aug. 11th and 12th. Observing tips may be found in the Science@NASA story "The Perseids are Coming."
HOW HIGH IS A PERSEID? Perseid meteors seem so nearby when they fly overhead, but appearances can be deceiving. Consider the following fireball, which lit up the sky above the Marshall Space Flight Center two nights ago: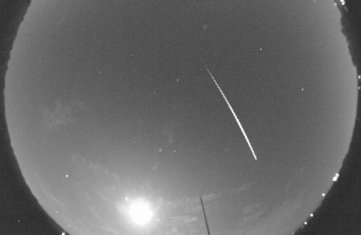 NASA astronomer Bill Cooke photographed the Perseid using not one but two all-sky cameras located 100 miles apart. The system's wide baseline, which crosses state lines between Alabama and Georgia, allowed him to triangulate the meteor's position and measure its velocity. "It came in at 58.8 km/s (130,000 mph) and disintegrated between 111 and 86 km above Earth's surface," he says.
So far, the dual-camera system has captured seven bright Perseids suitable for analysis. Cooke's histograms of starting and ending heights answer the question, how high is a Perseid?
UPDATED: 2009 Perseid Photo Gallery
[previous Perseids: 2008, 2007, 2006, 2005, 2004, 2001]
PERSEID'S BANE: Poets, dreamers, the romantically smitten, they all admire the silvery light of a full Moon. It's a lovely sight--until the meteor shower starts. Imagine trying to count Perseids through a floodlight like this: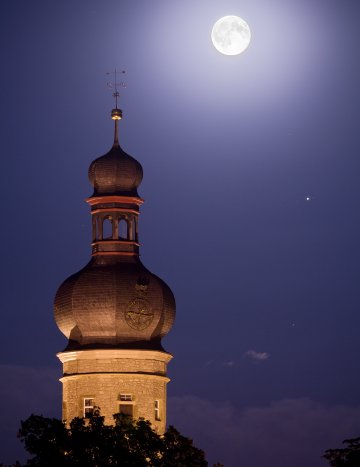 Jens Hackmann took the picture last night from Weikersheim, Germany. "Jupiter and the Moon were beautiful rising behind a local church tower," he says. If there were any meteors, however, moonlight blotted them out.
Fortunately, on Aug. 11-12 when the Perseid meteor shower peaks, the Moon will have waned to 55% of its current illumination. That's still a lot of moonlight, but not enough to completely spoil the show. Be alert for meteors next week!
more images: from Tamas Ladanyi of Veszprem, Hungary; from Ofer Gabzo of Givatayin, Israel; from Eric Soucy of Ohain, Brabant wallon, Belgium; from Bryan Tobias of Chicago, Illinois; from Mohamad Soltanolkottabi of Mahmudabad, Mazandaran, Iran; from Kevin Jung of Lowell Township, Michigan; from Zoltan Melkes of Kundl, Tyrol, Austria; from Ken Scott of Glen Arbor, Michigan; from Mahdi Zamani of Tehran, Iran; from Mark Seibold of Portland, Oregon;
from Mustafa Erol of Ankara, Turkey;
---
2009 Noctilucent Photo Gallery
[previous years: 2008, 2007, 2006, 2005, 2004, 2003]
---
July 2009 Aurora Gallery
[previous Julys: 2008, 2007, 2006, 2005, 2004, 2003]
---