| | | |
| --- | --- | --- |
| KILLER APP: You can now experience the Perseid meteor shower on your iPhone. It's cloud-proof! Learn more and give it a try. | | |
AURORA WATCH: A solar wind stream is buffeting Earth's magnetic field. High-latitude sky watchers should be alert for auroras.
METEOR UPDATE: Perseid meteors are now hitting Earth's upper atmosphere with a speed of 58 to 60 km/s, about 130,000 mph. That's the result of triangulation by a dual-station meteor monitoring system operated by NASA's Meteoroid Environment Office. Last night the system detected five fireballs that provided the data for this speed estimate.
EARLY PERSEIDS: The Perseid meteor shower is slowly intensifying as Earth plunges deeper in Comet Swift-Tuttle's debris stream. On August 4th, amateur astronomer Thomas Ashcraft caught an early arrival using an all-sky camera at his observatory near Santa Fe, New Mexico. Click on the image to play a movie with sound effects: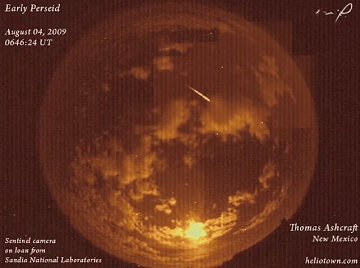 The "ping" you just heard was a 61.25 MHz TV signal bouncing off the meteor's ionized tail. Ashcraft keeps an antenna trained on the sky so that he can record the echos and lay them down as soundtracks for his all-sky movies. "I'm sure I'll record many more in the days ahead," he says. "Highlights will be posted here."
According to the International Meteor Organization, about 10 Perseids per hour are now streaking across the night sky: data. This number could increase to as many as 200 per hour when Earth crosses an anticipated filament of comet dust around 0800 UT (1 a.m. PDT) on August 12th. Observing tips and a sky map may be found in the Science@NASA story "The Perseids are Coming."
2009 Perseid Meteor Gallery
[previous Perseids: 2008, 2007, 2006, 2005, 2004, 2001]
BLANK IS BEAUTIFUL: The sun is entering its 27th consecutive day of spotlessness, quiet and calm. That's okay. According to astrophotographer Greg Piepol of Rockville, Maryland, blank is beautiful: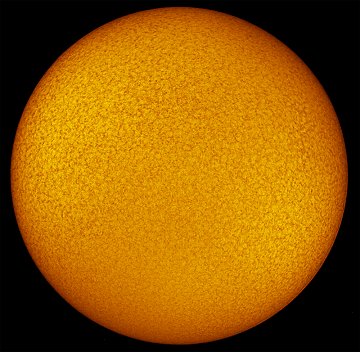 "I took this picture on August 4th using my Coronado SolarMax90," says Piepol. "It was a pretty sight uninterrupted by sunspots or other activity."
Indeed, the sun is being remarkably quiet. After a promising eruption of sunspots in early July raised hopes that Solar Cycle 24 was gaining strength, the sun reversed course and retreated to peaceful slumber. Only four weeks after behemoth sunspot 1024 amazed onlookers, solar minimum has never seemed deeper. The sun's 77% rate of spotlessness in 2009 confirms the ongoing minimum as a century class event.
---
2009 Noctilucent Photo Gallery
[previous years: 2008, 2007, 2006, 2005, 2004, 2003]
---
July 2009 Aurora Gallery
[previous Julys: 2008, 2007, 2006, 2005, 2004, 2003]
---