| | | |
| --- | --- | --- |
| SATELLITE FLYBYS APP: Turn your iPhone or iPod into a field-tested satellite tracker! Spaceweather.com presents the Satellite Flybys app. | | |
THE SUN IS A VARIABLE STAR: The Solar Dynamics Observatory (SDO), slated for liftoff on Feb. 9th, will make IMAX-quality movies of solar explosions, peer beneath the stellar surface to see the sun's inner dynamo, and--researchers hope--unravel the mysteries of solar variability. Get the full story from Science@NASA.
EARTH-DIRECTED ERUPTION? NASA's STEREO-B spacecraft is tracking four active regions strung across the eastern hemisphere of the sun. Click on the image below to set the scene in motion--and keep an eye on number 4.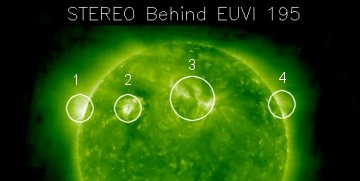 Credit: STEREO-B extreme ultraviolet telescope, 195 Angstroms
The movie shows an eruption of unstable magnetic loops. The blast occured around 0130 UT on February 5th and may have hurled some material in the general direction of Earth. (Our planet is off the right edge of the image.) The Solar and Heliospheric Observatory (SOHO) has a direct view of the blast site and it may be able to help evaluate this possibility.
UPDATE: There is a gap in SOHO image data spanning the time of the eruption. At present, there is no sign of a major CME heading toward Earth, but a lesser cloud could be en route. Polar sky watchers should be alert for auroras on or about Feb. 8th.
LAST NIGHT LAUNCH OF THE SHUTTLE PROGRAM: On Sunday morning, February 7th, at 4:39 am EST, space shuttle Endeavour is scheduled lift off from Kennedy Space Center on a 13-day mission to the ISS. There are only five missions left before NASA ends the shuttle program, and this will be the last one to launch at night. Endeavour's previous night launch looked like this: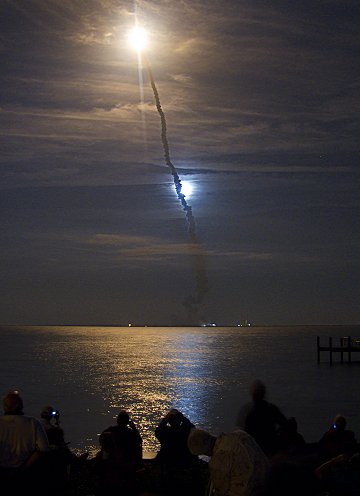 The spectacle attracted sightseers from hundreds of miles around. If you plan to be in Florida this weekend, here are some places you can watch the launch in person. Otherwise, tune in to NASA TV for full coverage.
Endeavour Launch Blog
[recommended viewing sites] [NASA TV]
---
February Northern Lights Gallery
[previous Februarys: 2009, 2008, 2007, 2006, 2004, 2003, 2002]