| | | |
| --- | --- | --- |
| SATELLITE FLYBYS APP: Turn your iPhone or iPod into a field-tested satellite tracker! Spaceweather.com presents the Satellite Flybys app. | | |
SOLAR DYNAMICS OBSERVATORY: The most advanced solar observatory ever built is set to launch from Cape Canaveral on Feb. 9th. The liftoff of SDO (Solar Dynamics Observatory) is such a big event, the staff of spaceweather.com is traveling to Florida to report on it. Until then, watch this movie about SDO courtesy of NASA.
MOLASSES-COLORED PLUTO: Pluto is so far away, even the Hubble Space Telescope can't make out the details of the dwarf planet. Nevertheless, recent images are mesmerizing researchers. Today, NASA released the most detailed view to date of the entire surface of Pluto constructed from multiple Hubble photographs taken from 2002 to 2003: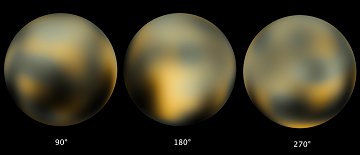 The data reveal an icy, mottled, dark molasses-colored world with a surprising amount of activity. Comparing Hubble images taken in 1994 vs. 2003, researchers see that Pluto's northern hemisphere has brightened while the southern hemisphere has dimmed. Furthermore, ground-based observations suggest that Pluto's atmosphere doubled in mass during approximately the same time period. These results show that Pluto is not just a frozen ball of rock and ice, but a lively world with much to study.
Researchers say the Hubble images, fuzzy though they may be, are invaluable for planning a flyby of Pluto by the New Horizons probe in 2015. New Horizons is en route to Pluto now and it will reveal the dwarf planet's features in exquisite detail from close range. Stay tuned for that, and meanwhile read today's press release from NASA.
NIGHT LIGHTS: Hundreds of years ago, the brightest things on the night side of Earth were Northern Lights. After nightfall, the continents went dark while polar regions lit up with solar wind-powered auroras. How times have changed. Consider the following satellite imagery of Europe and parts of North America on Feb. 3rd: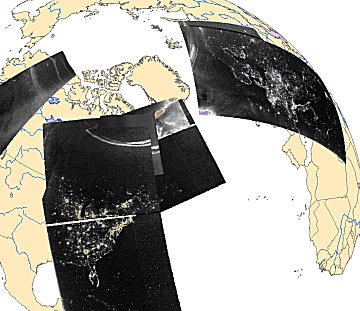 "This is a composite of nighttime images from the DMSP-18 military weather satellite," says Paul McCrone, who processed the data at the US Navy's Fleet Numerical Meteorology and Oceanography Center (FNMOC) in Monterey, California.
The auroras are still there--"note the luminous arcs over northern Canada and Scandinavia," McCrone points out--but now they have competition in the form of city lights. Indeed, the balance of power seems to have shifted sharply from Birkeland to Edison.
The balance could be restored, temporarily at least, on Feb. 10th when a solar wind stream is due to hit Earth. The impact will energize the arctic lights, boosting their luminosity for a nice show at high latitudes. Browse the gallery for a preview:
February Northern Lights Gallery
[previous Februarys: 2009, 2008, 2007, 2006, 2004, 2003, 2002]