SOLAR CYCLE PREDICTION: An international panel of experts says Solar Cycle 24 will peak in May 2013 with a below-average number of sunspots. Get the full story from Science@NASA.
MAGNETIC MAELSTROM: "Sunspot 1019 continues to put on a show," reports astronomer Pete Lawrence of Selsey UK. "Two distinct main spots are visible with a number of smaller pores scattered around a vast field of magnetic fibrils. The view through an H-alpha 'scope is stunning."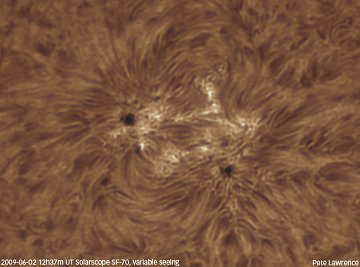 Since the sunspot emerged on May 31st, it has rapidly grown and reorganized itself into the double spot visible today: movie. The region is crackling with A- and B-class solar flares, which nicely highlight the sunspot's surroundings for astrophotographers. Readers, if you have a solar telescope, take a look!
more images: from B. Atkins, P. Fitzpatrick and J. Stetson of South Portland, Maine; from Etienne Lecoq of Mesnil Panneville Normandy, France; from Jérôme Grenier of Paris, France; from Peter Paice of Belfast, Northern Ireland; from Pavol Rapavy of Observatory Rimavska Sobota, Slovakia; from Ehsan Rostamizadeh of Kerman, Iran; from Steve Wainwright of Swansea S.Wales, UK; from Howard Eskildsen of Ocala, Florida
THINGS YOU CAN SEE AT A TRAFFIC LIGHT: "Yesterday, I pulled up to a traffic light in Florida. Right there in front of me I saw the space shuttle flying across the sky on top of a NASA 747," reports George Fetter of Daytona Beach. "I'm just glad I had my trusty Nikon D50 sitting on my passenger seat!" His first shot caught the piggy-backed spaceship emerging from behind a green light: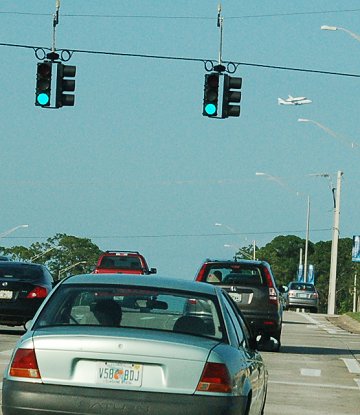 Quickly, he pulled to the verge and zoomed in for a closer look. "It was Atlantis returning home to Florida from the Hubble repair mission (STS-125)," he says.
On May 24th, bad weather over Florida forced Atlantis to land at Edwards Air Force Base in California. That set the stage for a 2,500-mile cross-country ferry flight. Fetter spotted Atlantis near the end of the journey, less than an hour before it touched down at the Kennedy Space Center.
With the STS-125 mission finally completed, NASA's shuttle team is shifting its attention to the next flight, space shuttle Endeavor's STS-127 mission to the International Space Station. Among other things, Endeavour will deliver a new "space porch" for Japan's Kibo science lab. Experiments that require, e.g., hard vacuum can then be placed out on the porch for direct exposure to space. Liftoff is tentatively scheduled for June 13th.
---
April 2009 Aurora Gallery
[previous Aprils: 2008, 2007, 2006, 2005, 2004, 2003, 2002]
---