| | | |
| --- | --- | --- |
| AURORA ALERTS: Did you miss the Northern Lights of June 25th? Next time get a wake-up call from Space Weather PHONE. | | |
AURORA WATCH: On July 12th a solar wind stream hit Earth and sparked a geomagnetic storm over Saskatchewan, Canada. "Alerted by a phone call from Spaceweather, I rushed outside and got some beautiful pictures of the auroras," says Bob Johnson of Saskatoon. Sky watchers should be alert for a repeat tonight; the solar wind continues to blow and NOAA forecasters estimate a 30% chance of high-latitude geomagnetic activity: gallery.
BINARY ASTEROID: Asteroid 2008 BT18 is gliding past Earth this weekend and astronomers have just discovered that it is a binary system. "The sizes of the two components are 600 m for the primary and >200 m for the secondary," says Lance Benner of JPL. "The primary looks spheroidal, but we don't yet know about the shape of the secondary." Benner and others using a giant radar in Arecibo, Puerto Rico, obtained this "delay-doppler" image of the pair on July 7th: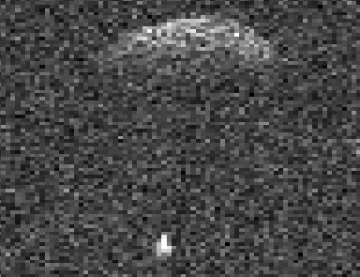 "We're also getting images from NASA's Goldstone radar in the Mojave desert of California," he adds. That radar is smaller than Arecibo but it is still registering a strong echo that should reveal much about the target, including the binary orbit, masses and bulk density of the components.
About 16% of all near-Earth asteroids are binaries, but only a handful have come this close. "2008 BT18 is giving us a good look at a double asteroid," says Benner. Studying the make-up and dynamics of these systems may help researchers figure out how to deflect binaries on a collision course with Earth. 2008 BT18 poses no threat, but some undiscovered binary asteroid, one day, might. "The Arecibo observatory, where 53% of all near-Earth binaries have been discovered, is crucial to these studies."
Southern hemisphere readers, you may be able to observe this double-rock using your own backyard telescope and CCD camera. At closest approach (1.4 million miles) on July 14th, 2008 BT18 will flit through Canis Major heading south and glowing like a 13th magnitude star: ephemeris, 3D orbit.
MARS ON THE MOVE: Put on your 3D glasses and behold ... a "moving rock" on Mars: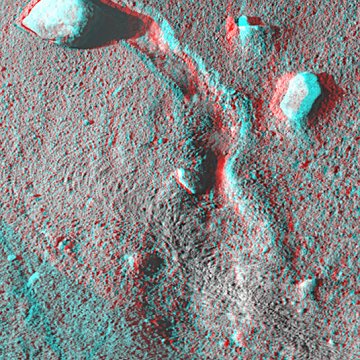 Click to view the complete scene
Graphic artist Patrick Vantunye of Belgium created the 3D anaglyph by combining right- and left-eye images from Phoenix's stereo camera. It shows a rock near the Mars lander's feet seemingly pushed some distance through the dusty soil. "It reminds me of the moving rocks of Racetrack Playa in Death Valley," says Vantuyne. Long held to be a mystery, those Death Valley rocks are now thought to travel by means of wind propulsion, skidding along a desert floor momentarily slick after rainstorms. What moved this Mars rock? Possibilities include Phoenix's landing thrusters, martian wind, a nudge from Phoenix's robotic arm, and of course the unknown. Solutions are welcomed.
SOLUTIONS: What made the rock move? "It's a Vastitas Borealis Gastropod," suggests reader Craig Weiss. That's longhand for northern martian snail, the solution offered independently by a number of readers. Other popular ideas, more serious ones, centered on the role of ice. Maybe the "rock" is made of frozen water, less dense than its rocky neighbors and more easily tumbled by Phoenix's landing thrusters. Sublimation of ice might produce some jetting action that would help the lump move along--like a little martian comet. Or maybe it is just what it appears to be: a small rock, less firmly planted in the soil than other nearby rocks, tumbled down a gentle slope by wind or thrusters. "Upon closer inspection, I think I have found the truth behind the moving rock," muses another reader, Jim Mahoney. "Click here and all will be revealed."
---
UPDATED: July 2008 Aurora Gallery
[Aurora Alerts] [Night-sky Cameras]