| | | |
| --- | --- | --- |
| AURORA ALERTS: Did you miss the Northern Lights of June 25th? Next time get a wake-up call from Space Weather PHONE. | | |
AURORA WATCH: High latitude sky watchers should be alert for auroras tonight. A solar wind stream is buffeting Earth's magnetic field and causing polar geomagnetic storms: gallery.
NOT A RAINBOW: On the afternoon of July 9th in West Roxbury, Massachusetts, John A Modricker witnessed something amazing. "It appeared to be a rainbow draped across the top of a thundercloud," and he snapped this photo: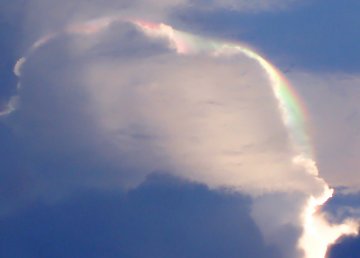 Photo details: Olympus S710, 1/500s, ISO 64. [more photos]
It was no rainbow. Atmospheric optics expert Les Cowley explains what Modricker saw: "This is an iridescent pileus cloud. On sunny afternoons, cumulus clouds boil upwards, pushing layers of moist air above them even higher where they cool and condense to form cloud caps or 'pileus' (Latin for cap). When pileus clouds form very quickly, their water droplets tend to be all the same size--the perfect condition for iridescent colors."
Readers, when cumulus clouds surge into your afternoon sky, look out for the pileus cloud.
MARS ON THE MOVE: Put on your 3D glasses and behold ... a "moving rock" on Mars: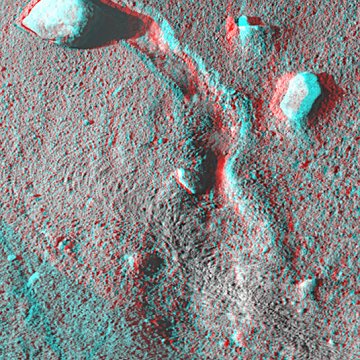 Click to view the complete scene
Graphic artist Patrick Vantunye of Belgium created the 3D anaglyph by combining right- and left-eye images from Phoenix's stereo camera. It shows a rock near the Mars lander's feet seemingly pushed some distance through the dusty soil. "It reminds me of the moving rocks of Racetrack Playa in Death Valley," says Vantuyne. Long held to be a mystery, those Death Valley rocks are now thought to travel by means of wind propulsion, skidding along a desert floor momentarily slick after rainstorms. What moved this Mars rock? Possibilities include Phoenix's landing thrusters, martian wind, a nudge from Phoenix's robotic arm, and of course the unknown. Solutions are welcomed.
SOLUTIONS: What made the rock move? "It's a Vastitas Borealis Gastropod," suggests reader Craig Weiss. That's longhand for northern martian snail, the solution offered independently by a surprising number of readers. Other popular ideas, more serious ones, centered on the role of ice. Maybe the "rock" is made of frozen water, less dense than its rocky neighbors and more easily tumbled by Phoenix's landing thrusters. Sublimation of ice might produce some jetting action that would help the lump move along--like a little martian comet. Or maybe it is just what it appears to be: a small rock, less firmly planted in the soil than other nearby rocks, tumbled by Phoenix's landing thrusters and/or robotic arm. It's still a mystery.
---