| | | |
| --- | --- | --- |
| AURORA ALERTS: Did you miss the Northern Lights of June 25th? Next time get a wake-up call from Space Weather PHONE. | | |
NLC ALERT: For the second night in a row, bright noctilucent clouds are rolling over Russia and central Europe. Veteran observers say the clouds are among the brightest they've ever seen. The same clouds may become visible in Canada and Alaska after sunset; sky watchers in those areas should be alert for NLCs.
CRATER BOREALIS: NASA spacecraft have discovered the biggest crater in the solar system--and it's on Mars. Borealis Basin, formed in a colossal impact 4 billion years ago, covers 40% of the red planet. It's so big, it's actually hard to see. Gravity maps and laser altimetry were required to reveal the basin's elliptical, planet-girdling boundary: full story.
NLCs INVADE RUSSIA: A bank of rippling electric-blue waves floated over Moscow last night. "It was a very bright display of noctilucent clouds (NLCs)," reports eyewitness Oleg Pomogaev. A 2-second snapshot with his Powershot A710 captured the NLCs hovering above darker, ordinary clouds: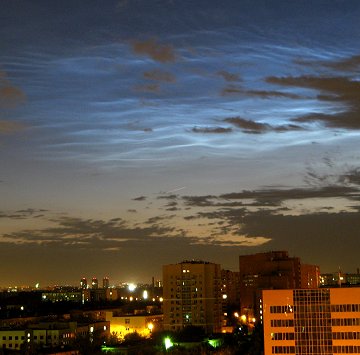 At 55 degrees north, Moscow has the high latitude typical of NLC sightings so far this year. Russia, the Netherlands, the United Kingdom, Hudson Bay--these define the realm of noctilucent clouds in 2008. NLCs have been known, however, to creep closer to the equator with sightings in recent years as far south as Utah, Colorado and even Virginia. So, wherever you live, be alert for these mysterious clouds. Observing tips may be found in the photo gallery:
2008 Noctilucent Cloud Gallery
["Noctilucent Clouds"--the song] [Night-sky Cameras]
AURORA AUSTRALIS: Auroras are dancing over the South Pole. "Solar winds from a coronal hole reached us today, June 26th, at about 2:45 PM New Zealand Standard Time," reports J. Dana Hrubes, Science Leader of the Amundsen-Scott Station at the geographic South Pole. "There were lots of reds and the auroras were very dynamic."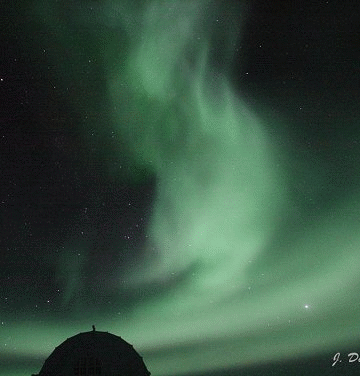 The slideshow, above, shows some of the activity Hrubes photographed using his Canon 400D. Thanks to the super-dark skies of Antarctica, the delicate Milky Way can be seen in the background of many of his snapshots. And that bright light beaming through the green? That's Jupiter.
Hrubes is "wintering over" at the South Pole where the sun won't come up for another two and a half months. He's there for the duration of the show--and it could be a good one. Auroras are likely for the next 24-to-48 hours as the solar wind continues to blow. Stay tuned.
June 2008 Aurora Gallery
[Aurora Alerts] [Night-sky Cameras]