Where's Saturn? Is that a UFO--or the ISS? What's the name of that star? Get the answers from mySKY--a fun new astronomy helper from Meade.

HAPPY SOLSTICE: This morning, Dec. 22nd at 6:08 am UT, the sun reached its lowest declination of the year: -23.5 degrees. Astronomers call this the winter solstice; it marks the first day of winter and the longest night of the year in the northern hemisphere. In the southern hemisphere, where things are reversed, it marks the beginning of summer and the longest day. Either way, happy solstice!

URSID METEORS: Comet 8P/Tuttle is coming and it is bringing a meteor shower with it. "We could be in for a Merry surprise on Dec. 22nd when Earth passes through a trail of comet dust," says astronomer Peter Jenniskens of the SETI Institute. Previous returns of Comet Tuttle to the inner solar system have been attended by outbursts of meteors, most recently in 1980 and 1994. During those flurries, dozens of meteors per hour flowed from the constellation Ursa Minor--hence the name of the shower, "the Ursids."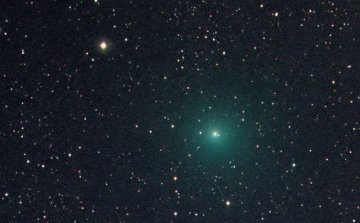 Above: Comet 8P/Tuttle photographed Dec. 21st by Mike Holloway of Van Buren, Arkansas. [sky map] [ephemeris] [orbit] [more]
Although Ursids have a reputation for being faint, "we are not certain about this," says Jenniskens. "Because winter weather keeps many observers indoors, Ursid outbursts have never been widely observed and they may contain a fair number of bright meteors. We have a lot to learn." That's why he hopes sky watchers will keep an eye on the northern sky this weekend; Ursid meteors emerge not far from the north star, Polaris. According to models by Jenniskens and colleagues, the peak will occur between 2100 and 2200 UT (4-5 pm EST) on Dec. 22nd with meteors visible as much as four hours before and after that time. Anything could happen, from a dud to a blast. Bundle up and look!
MOILANEN ARC: Sky watchers in Oslo, Norway, will always remember Dec. 16, 2007: It was the "Day of the Ice Halo." Diamond dust ice crystals drifting through the air caught the rays of the sun and transformed ordinary sunbeams into a dazzling array of luminous arcs, V's, and pillars--collectively known as halos. Oslo resident Steinar Midtskogen snapped this picture using his Nikon D70: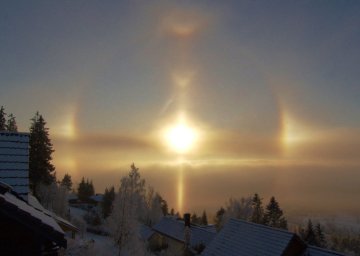 One of the V's in this photo turns out to be both rare and mysterious. Atmospheric optics expert Les Cowley explains:
"The Moilanen arc, the V-shaped arc closest to the sun in this picture, is named after its discoverer, Jarmo Moilanen of Finland. It is a mystery. We can simulate it mathematically using a sharp prism with faces tilted 34 degrees to each other instead of the usual 60 degrees of ordinary ice crystals. That is the easy bit! We do not yet know what real crystals in the sky make it. They could be twinned crystals, two interlocking crystals, or something even more exotic. Look out for it and, who knows, you might also discover your own halo!"
more Oslo images: from Johannes Froyen of Oslo, Norway; from Anders Gjørwad Hagen near Oslo, Norway; from Odd-Tore Saugerud near Oslo, Norway; from Signe S. Flugsrud of Oslo, Norway;
---
2007 Geminid Meteor Gallery
[World Map of Geminid Sightings]
[IMO recap] [meteor alerts] [Night Sky Cameras]