Where's Saturn? Is that a UFO--or the ISS? What's the name of that star? Get the answers from mySKY--a fun new astronomy helper from Meade.

MOON AND MARS: Please do not miss this: Tonight, just after sunset, the full Moon and Mars will rise in the east less than 2o apart. These are the two brightest objects in the evening sky; hanging so close together, they'll look absolutely dynamite. Bundle up and look: sky map.

URSID OUTBURST: "Initial reports from observers in Europe seem to confirm that an outburst of Ursids happened close to the predicted peak time," says forecaster Peter Jenniskens of the SETI Institute. "First reports put the rate around ZHR = 25/hr (predicted was 40 - 70/hr). The peak time may have been around 21:15 UTC (predicted 20.0 - 22.2 h UTC) on Dec. 22nd."

This bright Ursid flew overhead near Santa Cruz, California: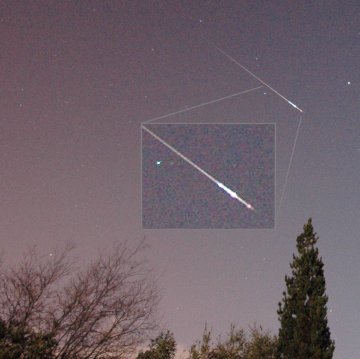 "This meteor appeared right in the center of the field of view," report photographers Brian Murahashi and Jim Albers. "Wow! There were bright pink and violet colors, multiple flares, and a persistent train, which we captured on our all sky camera."
The intensity and timing of the flurry is in good accord with predictions that Earth would run into a stream of dust from Comet 8P/Tuttle on Dec. 22nd. Now that the meteor shower is over, attention turns to the comet itself. After a 13.6 year absence, 8P/Tuttle is once again traveling through the inner solar system. At closest approach to Earth on Jan. 1st and 2nd, 2008, the comet, will brighten to 5th or 6th magnitude--a fine target for backyard telescopes and digital cameras.
Comet 8P/Tuttle Photo Gallery
[World Map of Comet Sightings]
[sky map] [comet cameras] [ephemeris] [orbit]
SOLSTICE SUNRISE: Yesterday was the first day of summer in Brazil. Photographer Alexandre Amorim was up at dawn to catch the season's first sunrise on Santa Catarina's Island: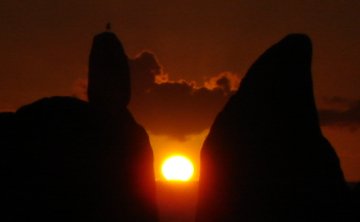 "The solstice sun was sandwiched between the uprights of our local dolmen," says Amorim. "With the Atlantic Ocean to the east, it is possible that ancient inhabitants of Santa Catarina's Island used this [rock tower] to mark the summer solstice. Today, the dolmen is useful to teach how the sun moves back and forth along the horizon in different seasons of the year."
more solstice sun photos: from Danilo Pivato of Rome, Italy; from Tom Soetaert of Lawrence, Kansas; from Doug Zubenel of Johnson County, Kansas; from Ivar Marthinusen of Skedsmokorset, Norway; from Cai-Uso Wohler of Bispingen, Germany.
---
2007 Geminid Meteor Gallery
[World Map of Geminid Sightings]
[IMO recap] [meteor alerts] [Night Sky Cameras]