What's the name of that star? Where's Saturn? Get the answers from mySKY--a fun new astronomy helper from Meade.
AURORA WATCH: A solar wind stream is heading for Earth and it could spark a geomagnetic storm when it arrives on May 18th or 19th. High-latitude sky watchers should be alert for auroras.
NEW SUNSPOT: Nearly invisible only 24 hours ago, sunspot 956 is now a rapidly growing active region larger than Earth. This SOHO movie shows the 'spot blossoming on May 14th:

If you have a solar telescope, keep an eye on the sun's eastern limb for further developments.
more images: from Cai-Uso Wohler of Bispingen, Germany; from Pavol Rapavy of Rimavska Sobota, Slovakia.
GREENSBURG, KANSAS: Photographer Mike Theiss is a frequent contributor of sky photos to spaceweather.com. A few days ago, he turned his camera from the heavens to Earth during a sobering visit to Greensburg, Kansas, a small town almost completely destroyed by a monster tornado on May 4th.
"The power of the wind from this EF-5 tornado was evident," says Theiss. "I documented a fork stuck in a tree, a Kansas license plate ripped off a car and stuck in a tree, millions of splintered pieces of wood and much more. There was amazing evidence of winds over 200 mph everywhere." (continued below)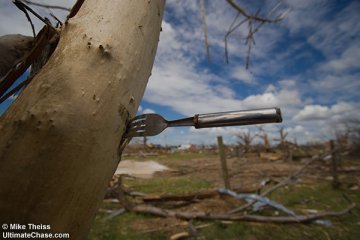 "Every single vehicle I saw was peppered with rocks, boards and other debris," he continues. "The only safe place would have been underground, but I think that might not have been very safe either because I saw basements that were filled with tons of debris from the house collapsing in on itself."
"My experience at ground zero was depressing yet uplifting. Among all the destruction, the only reaction I witnessed among residents was positive excitement about how great the city will be once it's rebuilt. The entire community pulled together and began cleanup immediately. One idea being tossed around is to 'go green'--i.e., to use wind, solar energy and other resources at hand to power the reconstructed city. This would make Greensburg the first 100% green city in the USA. What an amazing idea!"
Greensburg Photo Gallery
[donate to the Green for Greensburg Fund]