VOLCANIC SUNSETS: When the sun went down yesterday in Gresham, Oregon, the clear blue sky turned purple and several sets of delicate wavelike clouds appeared. "The phenomenon peaked about 25 minutes after sunset," says meteorologist Jan Curtis who took these pictures. The colors reminded Curtis of a volcanic sunset and, indeed, the high wavelike clouds were probably made of ash and sulfurous particles from Russia's Sarychev Peak volcano, which erupted on June 12th. A plume of sulfur dioxide from Sarychev Peak is circumnavigating the globe at high northern latitudes, so more volcanic sunsets may be in the offing. Stay tuned.
MAMMATUS OVER MANHATTAN: "Yesterday (June 26), after a summer evening thunderstorm, a bank of spectacular mammatus clouds formed over Manhattan," reports Snehal Patel of New York. "It was an amazing display that looked like large orange cotton balls falling from the sky." He took this picture using an iPhone 3G:
"The most entertaining part of the display was the crowds of people running out of restaurants and lining the streets to catch a glimpse!"
Mammatus clouds, named for their resemblance to a cow's underbelly, sometimes appear at the end of severe thunderstorms when the thundercloud is breaking up. Researchers have called them an "intriguing enigma," because no one knows exactly how and why they form. The clouds are fairly common but often go unnoticed because potential observers have been chased indoors by the rain. If you are one of them, dash outside when the downpour stops; you could witness a beautiful mystery in the sky.
more images: from Alex Barnard of New York City; from Marilyn Stern of Manhattan, New York City; from Terry Pundiak of Palmer Township, PA; from Martin Popek of Nýdek, Bystřice nad olší, Czech republic; from Dan Linek of Brentwood, New York
NLCs HEAD SOUTH: This may not be the most spectacular picture of a noctilucent cloud taken in 2009, but it is superlative in another way. It is the farthest south: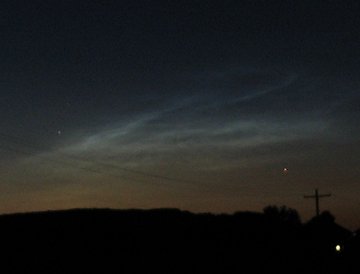 "I took this picture around 10:30 p.m. on June 27th from Byron, Wyoming," reports Caleb Sanders. "I have never seen noctilucent clouds before, but they were easily recognizable from the edge of town."
Noctilucent clouds first appeared in the late 19th century, and in those days they were confined to latitudes above 50o N (usually far above). The latitude of Byron is only 44°48' N. This continues a recent trend in of increasingly southern apparitions. Since the late 1990s, noctilucent clouds have been spotted in Oregon, Colorado, Utah, Turkey, and possibly Virginia. These sightings are a call to sky watchers at all latitudes: Be alert for NLCs! Observing tips may be found in the photo gallery.
2009 Noctilucent Photo Gallery
[previous years: 2008, 2007, 2006, 2005, 2004, 2003]
---