VOLCANIC PLUME: (Updated June 27) Sky watchers in Europe should be alert for volcanic sunsets. A mass of sulfur dioxide from Russia's Sarychev Peak volcano is swirling through the stratosphere over the North Atlantic and it appears poised to move over land during the next 24 hours. A movie made by the GOME-2 sensor onboard Europe's MetOp-A satellite shows the progress of the plume.
MAMMATUS OVER MANHATTEN: "Yesterday, after a summer evening thunderstorm, a bank of spectacular mammatus clouds formed over Manhattan," reports Snehal Patel of New York. "It was an amazing display that looked like large orange cotton balls falling from the sky." He took this picture using an iPhone 3G:
"The most entertaining part of the display was the crowds of people running out of restaurants and lining the streets to catch a glimpse!"
Mammatus clouds, named for their resemblance to a cow's underbelly, sometimes appear at the end of severe thunderstorms when the thundercloud is breaking up. Researchers have called them an "intriguing enigma," because no one knows exactly how and why they form. The clouds are fairly common but often go unnoticed because potential observers have been chased indoors by the rain. If you are one of them, dash outside when the downpour stops; you could witness a beautiful mystery in the sky.
more images: from Alex Barnard of New York City; from Marilyn Stern of Manhattan, New York City; from Terry Pundiak of Palmer Township, PA; from Martin Popek of Nýdek, Bystřice nad olší, Czech republic; from Dan Linek of Brentwood, New York
SARYCHEV PEAK VOLCANO: Perfect timing. On June 12th, just as Russia's Sarychev Peak volcano was erupting for the first time in 20 years, the International Space Station flew directly overhead. Astronauts had their camera ready and snapped one of the most dramatic Earth-science photos ever taken from space: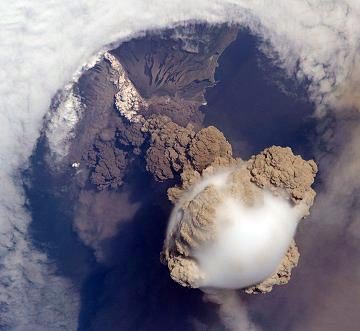 Researchers are studying this rare photo to learn about the early stages of powerful volcanic eruptions. A few phenomena stand out:
(1) The volcano erupted with such force, the plume actually punched through the atmosphere. Note how clouds around the volcano have parted in a circular ring--that is a result of a shock wave produced by the upward blast. (2) The plume is a mixture of brown ash and white steam. A "dirty thunderstorm" complete with lightning could be in progress within the roiling cloud. (3) The smooth white bubble on top of the plume is probably a mass of water condensing from air shoved upward by the rising ash column. If so, it is akin to the iridescent pileus clouds sometimes featured on spaceweather.com.
If you're not amazed yet, try this: Put on a pair of red-blue stereo glasses and behold the eruption in 3D. The anaglyph was created by graphic artist Patrick Vantuyne of Belgium. No stereo glasses? A cross-eyed version is also available.
EXTRA: Eric Salituro of Science4Grownups.com ("where every day is Science Friday") has stitched together a series of photos from the ISS to create a unique movie of the Sarychev Peak eruption. Watch it on YouTube.
---
2009 Noctilucent Photo Gallery
[previous years: 2008, 2007, 2006, 2005, 2004, 2003]
---