The space shuttle flies in March. Would you like a call when it soars over your backyard? Spaceweather PHONE!
SPACE STATION MOVIE: Have you ever seen a spaceship through your backyard telescope? Ralf Vandebergh did on Feb. 17th when the International Space Station flew over his hometown in the Netherlands. Using a 10-inch telescope and an off-the-shelf webcam, he recorded this must-see movie.
MYSTERY BURN: Last night at the Siding Springs Observatory in New South Wales, Australia, astrophotographer Gordon Garradd witnessed a glowing cloud in the sky. "It looked like a rocket burn." He took this picture at 17:30 UT on Feb. 19th: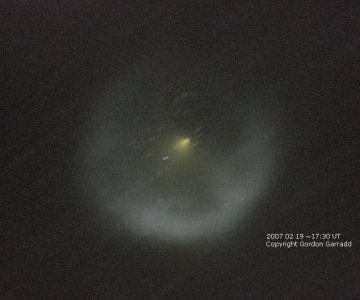 Photo details: Nikon D200, 85mm lens @ f/1.6, ISO 500, 4 sec exposure.
"I've seen rocket burns before and there is no doubt the cloud is rocket exhaust," says Garradd. "However, this is much larger than any I have seen before, such as Cassini. It makes me wonder if I saw a controlled burn or an explosion."
The cloud contained a swarm of small objects. To display their motions, Garradd is assembling a movie from his photos. The movie will also show the cloud drifting slowly across the sky. "It was visible for nearly an hour," he says. The burning question: If this was a rocket burn, what rocket was it? Ideas welcomed!
UPDATE: Others photographed the same cloud. "I was lucky enough to be shooting the exact part of sky that this object appeared in," reports Ray Palmer of the Golden Grove Observatory in Chittering, Australia. "I have no idea what it was, but it grew in size and moved quickly. I managed to view it for 35 minutes: image." Yet another photo of the cloud comes from Tim Thorpe at the Bull Creek Ranges in Meadows, South Australia. "Quite a surreal scene," he says.
FALSE AURORAS: There was no solar flare, no CME and no geomagnetic storm. So what were these auroras doing over Fred Kuipers' backyard in Kitchener, Ontario on Feb. 18th? Answer: They're not auroras.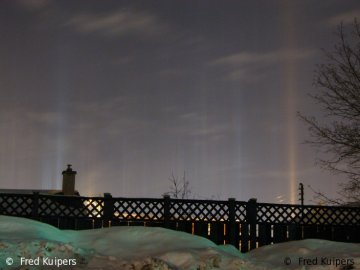 Photo details: Canon Powershot S3 IS, f/3.5, 10s exposure, ISO 200
"They're light pillars," says Kuipers. The air that night was filled with ice crystals. Urban lights reflecting from the crystals created the pillars. "They were very vivid and resembled auroras."
Keep an eye out for light pillars whenever the night air is very cold. For real auroras, click here.