The space shuttle flies in March. Would you like a call when it soars over your backyard? Spaceweather PHONE!
MOON & VENUS: When the sun goes down tonight, step outside and look west. Venus and the slender crescent moon are having a beautiful close encounter in the rosy glow of sunset: finder chart.
Ulrich Beinert of Achim, Germany, snapped this picture just hours ago: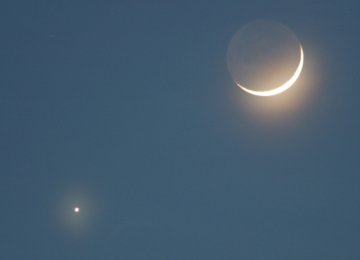 Photo Details: Canon EOS 10D, 300mm lens, 2 seconds at f/5.6, ISO 400
Note the fuzzy glow surrounding Venus and the crescent. Those are faint coronas caused by water droplets in the atmosphere. The physics is basically the same as in the solar corona discussed below (see "Tree Rings").
more images: from Tunç Tezel of near Bolu, Turkey; from Manfred Molkenthin of Osterholz-Scharmbeck, Germany; from Rudolf Reiser of Miesbach, Germany; from Achim Schaller of Laufen, Germany; from Peter Naglic of near Celje, Slovenia; from Olivier Staiger of Geneva, Switzerland; from Panatpong Jantarawattanawanich of Bangkok, Thailand.
TREE RINGS: What's going on around the Sun? A good place to look is from the shadow of a tree.
"This bright solar corona appeared for only a few minutes over Arlington National Cemetery on Feb. 17th," says photographer Phil Yabut of Arlington, Virginia: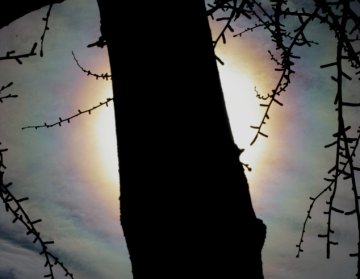 Photo details: Pentax *istD digital camera, ISO 200, f/13s
The colorful rings or "corona" are caused by tiny droplets of water in clouds. Sunlight is diffracted from the surfaces of the droplets, producing a colorful interference pattern around the Sun. Curiously, there is no need for the droplets to be either spherical, transparent or even made of water. Small ice crystals, pollen grains and large dust particles all form coronas.
Find a tree and take a look!