| | | |
| --- | --- | --- |
| iPHONE VS ANDROID! Actually, it doesn't matter which phone you carry. Our cool, new app turns both smartphones into field-tested satellite trackers. Learn more. | | |
SUNSET PLANETS: When the sun goes down tonight, step outside and look west. Venus, Mars and Saturn have formed a celestial triangle in the twilight sky, and just below them the crescent Moon is passing by Mercury. It's a joyous view. Don't miss it! Sky maps: Aug. 11, 12, 13.
PERSEID METEOR SHOWER: Earth is entering the debris stream of comet Swift-Tuttle and this is causing the annual Perseid meteor shower. According to the International Meteor Organization, observers are now counting as many as 25 meteors per hour during the dark hours before dawn. For Tamas Ladanyi of Taliandorogd, Hungary, just one was plenty: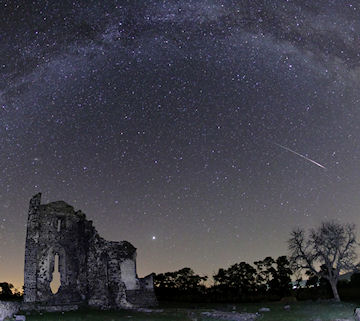 "This bright Perseid flying over the ruins of St. Andrew church made my evening," says Ladanyi. "It was so beautiful alongside Jupiter and the Milky Way."
The best is yet to come. Earth is approaching the heart of the debris stream, causing meteor rates to increase rapidly. On peak-night, Thursday, August 12th, observers could count as many as 100 Perseids per hour. It's such a good show, even the planets are gathering to watch. Shouldn't you, too?
New: 2010 Perseid Meteor Gallery
[live meteor radar] [IMO meteor counts] [NASA meteor chat]
ONE MONTH AGO: On July 11, 2010, the Moon passed directly in front of the sun, producing a total eclipse over the South Pacific. "It was one of the most beautiful sights I have ever seen," says Billy Mallery who witnessed the event from Easter Island: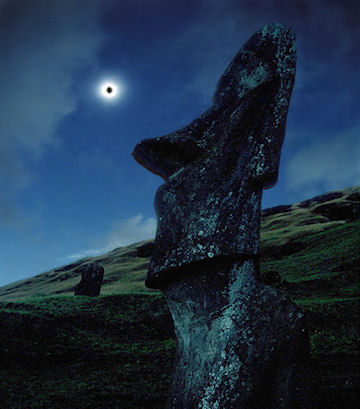 "I spent much time trying to find just the right place on the island for totality, and this was it... with the Moai 'looking' straight at the sun's corona," says Mallery.
Easter island was one of the few places the Moon's shadow made landfall. Mostly, the path of totality sprawled across open, uninhabited ocean. That didn't stop the eclipse-chasers, though, who crowded upon every boat, cruise ship, and atoll they could find to watch the show. Browse the gallery for more reminiscences.
Updated: Solar Eclipse Photo Gallery
[NASA: South Pacific Eclipse] [animated map]
---
August 2010 Northern Lights Gallery
[previous Augusts: 2009, 2008, 2007, 2006, 2005, 2004, 2003]