| | | |
| --- | --- | --- |
| iPHONE VS ANDROID! Actually, it doesn't matter which phone you carry. Our cool, new app turns both smartphones into field-tested satellite trackers. Learn more. | | |
PERSEID METEOR UPDATE: Earth is entering the debris stream of comet Swift-Tuttle and this is causing the annual Perseid meteor shower. According to the International Meteor Organization, observers are now counting as many as 25 meteors Perseids per hour during the dark hours before dawn. It's going to get even better: The shower is expected to peak on August 12th with rates as high as 100 per hour. Stay tuned for updates. [live meteor radar] [2010 meteor counts] [Bill Cooke's Perseid Twitter Feed]
INCOMING CME: The solar eruption of August 7th might affect Earth after all. Newly-arriving data from the Solar and Heliospheric Observatory (SOHO) show a CME heading our way with a significant Earth-directed component. Click on the image to launch a "difference movie" of the expanding cloud: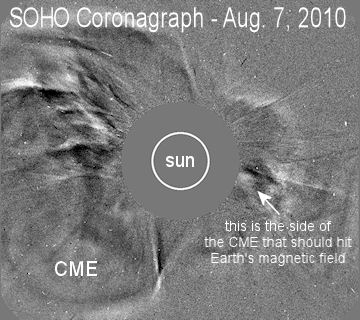 The impact of this lopsided CME probably won't trigger a major geomagnetic storm---but the SOHO data show it could be bigger than expected. High latitude sky watchers should be alert for auroras when the cloud arrives probably on August 10th.
ANTARCTIC AURORAS: The stage is set for a good display of auroras over Antarctica. The skies are already shimmering even before the CME arrives. J. Dana Hrubes sends this picture from the geographic South Pole: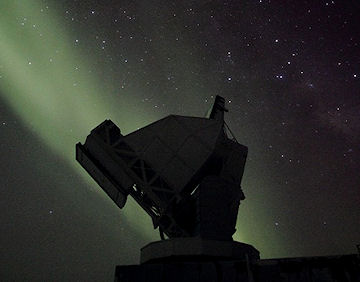 Hrubes is wintering over at the Amundsen-Scott Station where he oversees operations of the South Pole Telescope (SPoT), silhouetted above by aurora australis. "After one of the windiest Julys on record, we finally got some very clear skies on August 9th," he says. "The auroras were a welcome surprise. The sun will be returning to the South Pole in a little over 6 weeks, so I'm hoping for more auroras soon."
He may get them. NOAA forecasters estimate a 30% chance of polar geomagnetic activity when the incoming CME arrives. Stay tuned for Southern Lights!
August 2010 Northern Lights Gallery
[previous Augusts: 2009, 2008, 2007, 2006, 2005, 2004, 2003]
---
Solar Eclipse Photo Gallery
[NASA: South Pacific Eclipse] [animated map]